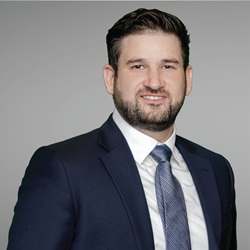 "In the 15 years since he joined the Firm, Jeff has served as an integral member of our team, always working diligently to help his clients and his team members achieve extraordinary outcomes." - Ken Wolfe, President and Managing Principal, BSSF
FREDERICK, Md. (PRWEB) January 05, 2023
Premier advisory firm, Brown Schultz Sheridan & Fritz (BSSF), is pleased to announce that Jeffrey N. Clippinger, CPA, has been promoted from Senior Manager to Principal, effective January 1, 2023.
"Jeff is an outstanding member of the BSSF team and could not be more deserving of this promotion to Principal," said Ken Wolfe, President and Managing Principal at BSSF. "In the 15 years since he joined the Firm, Jeff has served as an integral member of our team, always working diligently to help his clients and his team members achieve extraordinary outcomes. We are pleased to welcome him to the leadership team and are very proud of his accomplishments."
Jeff is a key member of the BSSF Insurance Practice and specializes in providing accounting, audit and focused advisory services to property and casualty insurance and alternative-risk insurance entities located across various domiciles.
The BSSF Insurance Practice provides a full range of audit, tax and advisory services to insurance companies across the country. In 2022, BSSF was ranked the 23rd largest audit firm in the U.S. on AM Best's list of the Top Audit and Actuarial Firms – 2022 Edition, based upon the loss reserves of the insurance clients served. According to the total number of insurance clients served, BSSF is ranked the 14th largest audit firm in the country.
Jeff is passionate about the insurance industry and is highly active with numerous professional organizations within the insurance community. He is an active member of the Pennsylvania Association of Mutual Insurance Companies (PAMIC) Financial Management Committee and the New York Insurance Association (NYIA) Education and Conference Planning Committee. He also serves as a presenter for BSSF's annual Insurance Webinar in December.
In addition to his role within the BSSF Insurance Practice, Jeff serves as a member of the BSSF Employee Benefit Plan (EBP) Practice, providing valued consulting and compliance services to EBP clients. He is also a key member of the Firm's Accounting and Auditing Committee.
Jeff received his Bachelor of Science degree in Professional Accountancy from the Pennsylvania State University Smeal College of Business.
To learn more about Jeff, please visit http://www.bssf.com/our-team/jeffrey-n-clippinger.
ABOUT BROWN SCHULTZ SHERIDAN & FRITZ
Brown Schultz Sheridan & Fritz (BSSF) is a premier advisory firm, providing accounting, assurance, tax and consulting services to clients across the United States. BSSF is nationally ranked the #2 Best Accounting Firm to Work For in the mid-sized category, the #3 Best Firm for Young Accountants and a Top Regional Firm in the Mid-Atlantic. In 2022, BSSF was named the #1 Best Place to Work in PA in the medium-sized company category for the third consecutive year. Learn more at http://www.bssf.com.