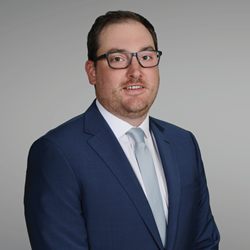 "Matt joins our Firm with a strong background in insurance taxation. His expertise will be a valuable asset to both our clients and team members as we continue expanding our services to insurance clients across the county." - Ken Wolfe, President and Managing Principal, BSSF
FREDERICK, Md. (PRWEB) December 16, 2022
Premier advisory firm, Brown Schultz Sheridan & Fritz (BSSF), is pleased to announce that Matthew R. Harvey, CPA, MSPA, has joined the Firm as a Senior Manager within the BSSF Insurance Practice.
Matt has over eight years of experience providing tax compliance and consulting services to both publicly and privately held corporations, with a specialization in insurance taxation. He also has significant expertise in Accounting Standards Codification Topic 740, Statement of Statutory Accounting Principles No. 101 and multi-state taxation compliance.
"We are thrilled to welcome Matt to the BSSF team," said Ken Wolfe, President and Managing Principal. "Matt joins our Firm with a strong background in insurance taxation. His expertise will be a valuable asset to both our clients and team members as we continue expanding our services to insurance clients across the county."
The BSSF Insurance Practice provides a full range of audit, tax and advisory services to insurance companies across the U.S. BSSF was recently ranked the 23rd largest audit firm in the U.S. on AM Best's list of the Top Audit and Actuarial Firms – 2022 Edition, based upon the loss reserves of property and casualty insurance clients served. According to the total number of property and casualty insurance clients served, BSSF is ranked the 14th largest audit firm in the country.
Matt is a member of the American Institute of Certified Public Accountants (AICPA), the Insurance Accounting & Systems Association (IASA) and the Insurance Tax Conference (ITC). He earned both his Bachelor of Business Administration (BBA) in Accounting and Finance and his Master of Science degree in Management – Professional Accounting (MSPA) from the University of Wisconsin-Milwaukee.
Matt will be working remotely from Milwaukee, Wisconsin, though he will travel to provide on-site tax compliance and advisory services to BSSF clients.
To learn more about Matt, please visit https://www.bssf.com/our-team/matt-r-harvey/.
ABOUT BROWN SCHULTZ SHERIDAN & FRITZ
Brown Schultz Sheridan & Fritz (BSSF) is a premier advisory firm providing accounting, assurance, tax and consulting services to clients across the United States. BSSF is nationally ranked the #2 Best Accounting Firm to Work For in the mid-sized category, a Top Regional Firm in the Mid-Atlantic and the #3 Best Firm for Young Accountants in the U.S. In 2021, BSSF was named the #1 Best Place to Work in PA in the medium-sized company category. Learn more at http://www.bssf.com.