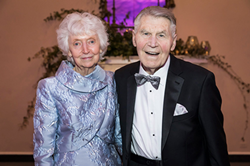 When you move away from a campus, often it becomes past history but for us, it's living history. We continue to live that through the current students, current faculty and current administration. We feel it's a very special relationship.
HENDERSON, Tennessee (PRWEB) December 05, 2020
The Freed-Hardeman University Annual Benefit Dinner for scholarships, held Friday night, Dec. 4, raised more than $1.5 million to assist students. The total exceeded last year's total, despite the challenge of hosting it during a pandemic.
Actor and activist Gary Sinise was the featured speaker, but as one might expect in 2020, it was not the usual speaker presentation. Instead of traveling to Henderson as had been planned, Sinise delivered his remarks live but from a distance.
Highlights of the evening included announcements regarding the future of FHU. Continuing their years of philanthropy to Freed-Hardeman, as well as many other entities, alumni John W. and Rosemary K. Brown have made yet another major commitment to the university. The couple has pledged $15 million over the next five years, making it the largest single gift in the history of the university.
This latest gift to Freed-Hardeman will go toward an addition to and renovation of Wallace-Gano Dining Hall, the ATPI Center for Digital Innovation, a new software program for the university's administration, and seed money to establish a scholarship program for minority students. The revamped Wallace-Gano will get a new name, the Dr. Elizabeth Saunders Center. The retired professor of education was the first Black student to graduate from Freed-Hardeman, as well as the first Black member of the faculty. She taught at the university for 40 years, retiring in 2018.
The Saunders Center will include a cafeteria, Lions Pride, student services, bookstore, mailroom and the ATPI Center for Digital Innovation. ATPI will house four academic programs: robotics, artificial intelligence, computer engineering and cybersecurity. The center's name honors the Browns' parents, Albert and Treva Brown and Phillip and Irene Kopel; the letters are the first letters of their names. Although their parents are deceased, John Brown thinks, "They would be extremely impressed."
"They never had a computer nor an iPhone," Rosemary Brown said, "but I think they would appreciate the honor."
The Browns earned Associate of Arts degrees from Freed-Hardeman College in 1955 and completed baccalaureate degrees at Auburn University in 1957, he in chemical engineering and she in chemistry. Rosemary Brown later earned a master's degree from Rutgers University. FHU awarded them honorary Doctor of Laws degrees in 1999.
Included in Jim Collins' book, "Great by Choice," John Brown was president of Stryker Corporation from 1977 until 2003. From 1977 to 2009, he was the chief executive officer and from 1981 until 2009, he was the chairman of the board. Under his leadership, company revenues went from $17 million to $6.7 billion. Early on, Brown set a goal of 20% annual growth for every division of Stryker. Stryker consistently met the goal.
They have contributed to various FHU endeavors for nearly 40 years, including scholarships, endowed chairs of excellence in Bible and mathematics and computer science, $5 million for the Brown-Kopel Business Center, $8 million for the Hope Barber Shull Academic Resource Center, and $1 million for the Physical Therapy Assistant Program.
Rosemary Brown said, "When you move away from a campus, often it becomes past history but for us, it's living history. We continue to live that through the current students, current faculty and current administration. We feel it's a very special relationship."
The couple was inducted into the Tennessee Independent Colleges and University's Hall of Fame by Dr. Claude Pressnell, president of TICUA, at the dinner. The evening's entertainment, presented by The Token Show, also honored their lives and impact.
The Browns, via a video message, thanked TICUA, as well as others who had honored them, calling it "quite unexpected." Apologizing for being unable to attend, they expressed "great appreciation" for the honor. "I am not sure that we totally deserve it," John Brown said, "but we are delighted to get it!"
"John and Rosemary Brown's contributions through service and resources have enriched the lives of thousands of students, including those at FHU," David R. Shannon, president of FHU, said. "Their unmatched contributions have impacted every student on campus. Their willingness to let students into their lives to see their faith, character and business acumen has deeply impressed students."
Rosemary Brown has long been inspired by a Nelson Henderson quote: "The true meaning of life is to plant trees under whose shade you do not expect to sit." It is, in fact, the way she would like to be remembered. "We are grateful for the 'trees' John and Rosemary Brown have planted on the campus of FHU," Shannon said. "May they continue blessing students far into the future."
FHU's mission is to help students develop their God-given talents for His glory by empowering them with an education that integrates Christian faith, scholarship and service. With locations in Henderson, Memphis and Dickson, FHU offers bachelor's, master's, specialist's and doctoral degrees. More information is available at fhu.edu.