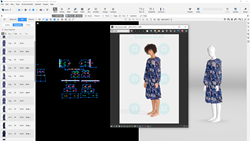 When Covid-19 travel restrictions caused our global 360 Go-To-Market meeting to be switched to a digital event, EcoShot gave us the flexibility to show our 3D garments on real people.
NEW YORK (PRWEB) September 22, 2020
Browzwear, a global leader in 3D technology for the apparel industry, today announced a partnership with Metail for integration of its EcoShot 3D garment-on-model technology. As an extension in Browzwear's VStitcher design solution, the powerful visualization tool serves as a virtual photo studio, enabling businesses to showcase clothing on real people. This capability facilitates decision making, communication, collaboration and merchandising while also reducing the need for physical samples.
The integration is the product of a three-year collaboration between Metail and Browzwear followed by an extensive beta testing and review process with key customers including the Otto International, part of the Otto Group, one of the world's leading privately owned multi-channel retail groups, PUMA, the third largest sportswear manufacturer in the world and Odlo, a global leader in performance sportswear.
EcoShot's realistic visualizations are made possible by the combination of VStitcher's accurate simulation of garment and Metail's "Scanatars." The Scanatars are digitized versions of human models, created using 3D body scans, photography, and computer vision algorithms.
In addition to EcoShot's value as a tool to improve communication and "sell" concepts to internal stakeholders, which speeds product development and time to market, EcoShot renderings can also be used in lieu of physical samples for merchandising, consumer testing and ecommerce. This capability became especially valuable to fashion businesses that have been challenged by the inability to produce and ship physical garment samples during the COVID-19 pandemic.
"EcoShot images are even more convincing than regular 3D, as customers less distracted by avatars can better accept that this is what the garment will really look like in real life," said Katharina Bobrowski, General Manager featuring LIMITED, the virtual product development division of Otto International. "Also great is that, because only approved ideas are turned into physical samples, we save a lot of time as well as the resources we'd otherwise use to make multiple samples for each individual garment."
"When Covid-19 travel restrictions caused our global 360 Go-To-Market meeting to be switched to a digital event, EcoShot gave us the flexibility to show our 3D garments on real people," said Bernd Sauer, Apparel Development Director at PUMA. "EcoShot helped ensure that our Go-To-Market and Business Units chose to incorporate 3D garments into their virtual merchandise planning for the next season."
"We're elated to incorporate Metail's EcoShot technology into VStitcher and enable businesses to get more out of their investment in 3D," said Joy Foo, Strategic Partnerships and Solutions Director of Browzwear. "We also believe the amazing true-to-life visualizations made possible by the Scanatars will help more businesses realize the impact that incorporating 3D technology into their workflows can have on creativity, efficiency, and of course, revenue."
"At Metail we believe that technology, and especially 3D design tech, is fundamental to a more sustainable future for the fashion industry" says Jim Downing, CEO of Metail "We're excited to work with partners like Browzwear to help brands and manufacturers forge ahead, using solutions like EcoShot"
VStitcher users can now add Metail's plugin and seamlessly render Metail garments. Register and watch Browzwear's webinar on the practices of Selling with 3D hosting featuring Ltd and Metail today here: https://go.browzwear.com/selling-with-3D-sept2020-PR.
About Browzwear
Founded in 1999, Browzwear is a pioneer of 3D digital solutions for the fashion industry, driving seamless processes from concept to commerce. For designers, Browzwear accelerates collection development, opening limitless opportunities to create iterations of styles. For technical designers and pattern makers, Browzwear rapidly fits graded garments to any body model with accurate, true-motion material replication. For manufacturers, Browzwear's Tech Pack delivers everything needed to produce physical garments perfectly the first time, and at every step from design to production. Worldwide, more than 350 organizations such as Columbia Sportswear, PVH Group and VF Corporation leverage Browzwear's open platform to streamline processes, collaborate and pursue data-driven production strategies so they can sell more while manufacturing less, which increases both ecologic and economic sustainability. For more information, visit http://www.browzwear.com.
About Metail
Metail's mission is to use technology to accelerate positive change and sustainability in the apparel industry. With over 10 years' experience and over 20 patents granted internationally, Metail is pushing the boundaries in the areas of 3D body modelling, virtual model imagery and more.
We are helping brands and manufacturers embed and harness their digital product creation and selling capabilities using compelling visualisation to communicate better. As a result, teams experience better collaboration, quicker decision making and less waste in taking their products to market. http://www.metail.com
Media Contact:
Seth Menacker
201-638-7561
browzwear@clarity.pr