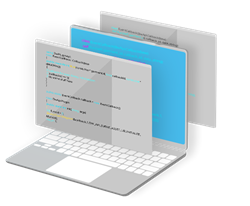 It is essential for companies to focus on ways to improve their overall business outcomes, and Browzwear's Open API allows companies to enjoy a faster and more efficient way of working
NEW YORK (PRWEB) December 23, 2020
Browzwear, a pioneer of 3D digital solutions for the fashion industry, announces the general availability of its API. Browzwear's API is a conduit between its robust 3D solution and third party technology platforms to collaborate interoperably. Apparel companies working with Browzwear now have the ability, through custom extensions and plugins, to build, customize and manage a completely digital workflow by seamlessly connecting and embedding multiple applications within their existing platforms. This release further reinforces the linkages between both customers and partners.
By utilizing Browzwear's API developers can build and connect extensions in fields such as asset management, rendering processing, costing, visualization tools and more. Both clients and technology partners have already utilized Browzwear's API before its general availability connecting tech solutions by PTC, Centric Software, Metail, BeyondXR, FNX, Trapdoor Creative, BeProduct and more.
"It is essential for companies to focus on ways to improve their overall business outcomes, and Browzwear's Open API allows companies to enjoy a faster and more efficient way of working," said Avihay Feld, CEO at Browzwear. "Fashion and apparel businesses are now able to cut back on costs, time and effort with the automated and integrated processes".
"Earlier this year, we launched the industry's first native and bi-directional integration between the retail industry's most widely-used PLM platform, PTC FlexPLM, and 3D design tools developed by Browzwear– bringing the benefits of true-to-life 3D to PLM users at every stage of the product lifecycle," said Bill Brewster, SVP and General Manager of PTC's Retail Business Unit. "Browzwear is a valued technology partner and their Open API, SDK and support were critical in enabling us to bring this level of deep and feature rich integration to market, to help brands and retailers realize the full value of 3D and create a digital product creation workflow."
"We really appreciate working with the Browzwear team and their approach to technology partnerships" said Stacey Charbin, CMO at Centric Software "Browzwear's rich API allows for a tight, painless integration between Browzwear and Centric PLM to support a full, end to end, 3D workflow from concept to completion, giving users the best of both worlds. The Open Platform makes it easy to keep pace with upgrades and stay with the latest innovations.
To learn more and explore our API guide, please visit https://go.browzwear.com/api-pr.
About Browzwear
Founded in 1999, Browzwear is a pioneer of 3D digital solutions for the fashion industry, driving seamless processes from concept to commerce. For designers, Browzwear accelerates collection development, opening limitless opportunities to create iterations of styles. For technical designers and pattern makers, Browzwear rapidly fits graded garments to any body model with accurate, true-motion material replication. For manufacturers, Browzwear's Tech Pack delivers everything needed to produce physical garments perfectly the first time, and at every step from design to production. Worldwide, more than 650 organizations such as Columbia Sportswear, PVH Group and VF Corporation leverage Browzwear's open platform to streamline processes, collaborate and pursue data-driven production strategies so they can sell more while manufacturing less, which increases both ecologic and economic sustainability. For more information, visit http://www.browzwear.com.
Media Contact
Lauren Carver, Clarity PR
browzwear@clarity.pr