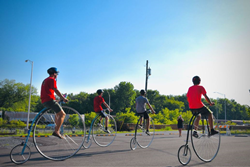 "Becoming a 'Bicycle Friendly Community' means getting access to a whole support system for further developing our cycling amenities and culture and securing funding for future cycling-related projects." - Carmen Hilton, Manager of Brunswick Main Street
BRUNSWICK, Md. (PRWEB) September 17, 2021
As of Sept. 1, 2021, Brunswick is being reviewed for a "Bicycle Friendly Community" designation by The League of American Bicyclists (the League). Founded in 1880, the League has worked for generations to create safer roads, stronger communities, and a Bicycle Friendly America that celebrates and preserves the freedom cycling brings.
Carmen Hilton, Manager of Brunswick Main Street and one of the members of the application committee expressed her excitement about becoming a certified Bicycle Friendly Community. "I see cycling as a huge part of our thriving downtown economy. Brunswick already has so much to offer to both resident and visitor cyclists, with its proximity to the C & O National Historic Park Towpath and River's Edge Trail network. Becoming a 'Bicycle Friendly Community' means getting access to a whole support system for further developing our cycling amenities and culture and securing funding for future cycling-related projects."
A critical part of the application process involves a public survey on bicycling in Brunswick. This survey helps the review panel better understand local bicyclists' experiences. The anonymous aggregate feedback also plays a valuable role in identifying areas for improvement and guiding short- and long-range goals for local planners.
Anyone familiar with bicycling in Brunswick is kindly asked to fill out the survey. It will remain open through Monday, October 11th, 2021 and can be accessed at the following link or QR code.
Final award results are expected to be announced in December.
About the Brunswick Bicycle Friendly Community Application Committee
Brunswick's Bicycle Friendly Community application was submitted with the help of the following committee members: Carlo Alfano, MORE's (Mid-Atlantic Off-Road Enthusiasts) River's Edge Trail Liaison; Shayne Boucher, Community Outreach Coordinator, Frederick Bicycle Coalition; John Dayton, Brunswick City Councilman; Carmen Hilton, Manager, Brunswick Main Street; Alyssa Theodore, Chair, Brunswick Main Street Promotions Committee; Chris Vigliott, Brunswick City Councilman; Adam Wyatt, owner, Three Points Cycles.