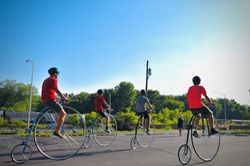 "Brunswick Main Street recognizes cycling, whether on the Towpath or the River's Edge Trail network, as one of our community's best assets." - Alyssa Theodore, Chair, Brunswick Main Street Promotions Committee
BRUNSWICK, Md. (PRWEB) July 29, 2020
1890 was a very good year for both high wheel manufacturers and Brunswick, MD. The year the City of Brunswick was incorporated was also the year of peak popularity of the gravity-defying bicycles also known as "Penny Farthings." These brakeless balancing acts, which are famously seen in Frederick County at the Clustered Spires High Wheel Race, are coming to Brunswick for a slower-paced ride on Sunday, Aug. 2nd.
Hosted by Brunswick Main Street and The Wheelmen, Throwback on the Towpath invites cyclists on all types of bikes to join in an out-and-back ride on the C & O Towpath between the Brunswick Family Campground and Harper's Ferry, WV. Brunswick Main Street's Promotions Committee Chair, Alyssa Theodore, was "thrilled when The Wheelmen approached us about partnering on an event. Brunswick Main Street recognizes cycling, whether on the Towpath or the River's Edge Trail network, as one of our community's best assets. We are excited about anything we can do to enhance our strong cycling culture."
Event co-organizer Shayne Boucher, Community Outreach Coordinator for the Frederick Bicycle Commission and member of The Wheelmen, is always looking for ways to promote cycling in Frederick County. "We invited Penny Farthing and antique bike riders from The Wheelmen to join us in this distanced ride and to encourage our local community to get out and enjoy outdoor riding. It is this type of event that will help put Brunswick in a good position to become the next Bicycle Friendly Community in Frederick County."
Event details and a link to purchase tickets to a special Throwback on the Towpath Grab-n-Go Breakfast at Beans in the Belfry are at https://www.facebook.com/events/599987943990900/.
Brunswick Main Street is part of Main Street America, a program of the National Trust for Historic Preservation that supports communities in their efforts to revitalize struggling downtowns while retaining their unique, historic characters. Dedicated to the economic success of its downtown, Brunswick Main Street, created in 2004, works to revitalize the charm and history and show residents and visitors why Downtown Brunswick is a great place to live, work, shop, and play. To learn more about Brunswick Main Street and how you can get involved, visit https://brunswickmainstreet.org/.