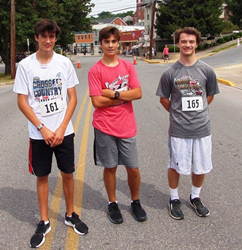 "The Potomac Street Mile has always been about many things in addition to competition: fitness, support for downtown, and having fun running in historic Brunswick." - Lee Zumbach, Event organizer, Potomac Street Mile
BRUNSWICK, Md. (PRWEB) July 29, 2020
For this first time in its fifteen-year history, the Potomac Street Mile will be run "virtually." How does one run a virtual race? 2020 has been the year to learn. From 5ks to marathons, runners are being asked to tackle courses independently and to use fitness trackers to collect time and location data. (GPS ensures no course corners are cut.) Runners submit their outcomes to websites, such as runsignup.com, that specialize in organizing race registrations, brackets, and fundraising.
The Potomac Street Mile, as its modest distance implies, is a more casual event designed to bring the whole family out to walk or run. Participants can track their best time however they would like. Submission is on the honor system. Event organizer Lee Zumbach explains the approach, "The Potomac Street Mile has always been about many things in addition to competition: fitness, support for downtown, and having fun running in historic Brunswick. That's why we added a second course this year that we're calling the "Roller Coaster" extension, to celebrate Brunswick's hills."
Brunswick Main Street's Board President Julie Martorana is "glad that we can keep this community event on our calendar in a way that people can enjoy safely. We're proud to be able to say that 'even Covid-19 couldn't stop the Potomac Street Mile.'"
Registration must be submitted by July 31st, 2020. Participants have from Aug. 1st to Aug. 15th to complete the course. Signup, route maps, and t-shirt sales are available at https://bit.ly/2X5wwVK.
Brunswick Main Street is part of Main Street America, a program of the National Trust for Historic Preservation that supports communities in their efforts to revitalize struggling downtowns while retaining their unique, historic characters. Dedicated to the economic success of its downtown, Brunswick Main Street, created in 2004, works to revitalize the charm and history and show residents and visitors why Downtown Brunswick is a great place to live, work, shop, and play. To learn more about Brunswick Main Street and how you can get involved, visit https://brunswickmainstreet.org/.