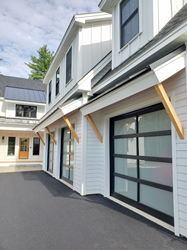 With the wide design options and product success we've had with Haas Door, I anticipate we'll continue to use them for the majority of our new home designs in the future.
WAUSEON, Ohio (PRWEB) January 09, 2020
Looking for the next trend in East Coast homes? Then look westward. That's what Brush and Hammer Builders has done with a wide variety of their custom home creations. The design/build firm focuses on constructing modern farmhouses and coastal contemporary homes with the perfect blend of modern accents that have a timeless appeal.
"Our firm fuses traditional exteriors with modern finishes both inside and out," says Anthony Requia, managing partner at Brush and Hammer Builders in Portland, Maine. "We're helping move this unique style eastward to the coastal areas of Maine."
Modern Coastal Farmhouse
One of the firm's latest success stories is a 6,000-square-foot home in Yarmouth, Maine. To get the look they wanted for the exterior, they selected Commercial Aluminum 320 insulated garage doors from Haas Door. The heavy-duty corrosion-resistant aluminum garage doors feature an all-window design to maximize light flow into the home's three garages.
"The homeowners wanted a cool, modern look and feel to the exterior farmhouse design," says Requia. "The garage openings look stunning with the modern style of the black aluminum with frosted privacy glass. This is the style the homeowners wanted and I worked with Haas Door products to meet their needs.
"We determined the color of aluminum that best complemented the overall window frames in the home. Then, we matched the grid style in the garage door windows to complement the grid style on the home's windows.
"I had these same garage doors in my house in California. Using this style of door for this Maine home helped us fully create the traditional farmhouse exterior design, yet with a modern feel. This is a design style from the West Coast that we're trying to progressively bring to the East Coast. Everyone who sees it loves the cleanness of the lines and its simplicity of design."
Stylish Garage Doors
In business since 2003, Brush and Hammer relies on Haas Door garage doors for the majority of their projects. "We use Haas Door products for everything," says Requia. "The American Tradition Series is one of our favorites … we've used them on the last 15 homes we've designed and built."
The wide variety of overlay opportunities with the American Tradition Series appeals to the team at Brush and Hammer. Many of their carriage house style garage door selections include windows on the top, with white overlays on white steel. Ideal for the rugged Maine climate, American Tradition Series garage doors are two-inches thick with a full thermal break and a calculated R-Value of 13.45.
"Our clients have always appreciated the selection of Haas Door products for their homes," says Requia. "With the wide design options and product success we've had with Haas Door, I anticipate we'll continue to use them for the majority of our new home designs in the future."
Haas Door is located in Wauseon, Ohio, where the company manufactures steel and aluminum residential and commercial garage doors. The family-owned company holds memberships in IDA and DASMA, and produces products that are sold throughout North America. For more information on Haas Door, visit http://www.HaasDoor.com.
###