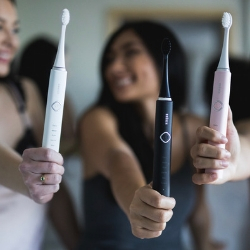 "Brüush has created a top-of-the-line brush at a much cheaper price than traditional electric brushes. I'm really impressed with their product and am now recommending it to my clients." - Dr. Lombardi
VANCOUVER, British Columbia, and SAN FRANCISCO (PRWEB) November 26, 2018
Until recently, the $40B oral hygiene industry has remained relatively undisturbed. Enter Brüush, a high performance electric toothbrush that raises the bar in how people care for their teeth.
The company's direct-to-consumer business model allows them to sell a luxurious, high performing toothbrush at an accessible price point. Their simple subscription model delivers fresh brush heads to consumers' doorstep at half the price of many leading competitors. In the modern age of convenience and efficiency, Brüush is a welcome addition to the oral care industry.
"We really wanted to bring a feeling of fun and luxury to brushing your teeth. We envisioned an electric toothbrush that's built for exceptional performance and fit for the modern person. When you do something twice per day, everyday, why not make it an enjoyable experience?" explains Brüush Chief Operating Officer Jared Schachter.
Manufactured to exceed industry leading standards, Brüush has caught the eye of dental professionals alike for its impressive functionality, engineering and design. Some of its core features include:

Six different brush modes to accommodate all types of users.
Brush heads packed with double the amount of soft Tynex® bristles, powered by high frequency sonic technology which vibrates at an impressive rate of 30,000 strokes per minute.
Industry leading battery life lasting over 3 weeks on just one charge.
A sleek and travel friendly carrying case to take wherever you go.
The exquisite design is not to be overlooked, either. Beautiful on the inside, beautiful on the outside, Brüush has raised the bar like no other at an affordable price - bringing luxury directly into the palms of the consumer.
Central to the company's mandate, Brüush has partnered with global non-profit A Reason to Smile, providing a toothbrush, toothpaste and fluoride treatment to a person in need for every brush head refill shipped.
Brüush can be purchased for $79USD with a subscription and is available in pink, black and white. The subscription kit delivers 3 brush heads directly to the consumer for $18USD every 6 months.
ABOUT BRUUSH
Brüush is a Canadian start up dedicated to raising the bar in oral health, providing luxury products to consumers at an accessible price point. For more information, visit http://www.bruush.com.