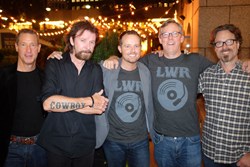 Freedom of creativity and collaboration above all.
Boston, MA (PRWEB) December 09, 2013
Ronnie Dunn, arguably one the most decorated musician of all time with 28 Academy of Country Music Awards, 20 Country Music Association Awards, two Grammy Awards, and more than 30 million records sold, is determined to change the system. In 2013, Dunn took the first step by founding Little Willie Records (LWR) with the goal to "challenge the idea that country music is limited to a specific space, age, race, sound, or background. Cowboy, flown under the LWR banner, is meant to represent freedom of creativity, and collaboration above all." Dunn has created deep alliances with a marketing All-Star team destined to figure out a new model for the music industry.
Bryan Wilks was the first on board. Wilks is a young MBA with an aggressive and innovative approach to digital marketing. Trained in marketing at the Leadership Institute in Washington DC and mentored by the founder Morton Blackwell former Ronald Reagan staff and delegate. Wilks traveled North America teaching workshops on marketing, managed a high profile U.S. Congressional campaign in Texas, worked for the U.S. House Majority Leader Dick Armey in Washington DC and was named the Executive Director of the Conservative Leadership Political Action Committee before becoming a Vice President of the largest privately held packaging company in North America. At 36, Wilks now operates his own successful marketing agency and advices numerous fortune 500 corporations.
Then came Brian Halligan who some consider the next Steve Jobs. Halligan, a MIT MBA and senior lecturer, is the CEO and co-founder of HubSpot one of fastest growing internet marketing companies in the world. Halligan states, "At HubSpot, we replace interruptive, annoying marketing with marketing people love, and we are delivering on that vision with more than 8,400 customers in over 56 countries." Halligan is the godfather of inbound marketing a term to describe the type of marketing he advocates. He has co-authored two books on marketing: Inbound Marketing: Get Found Using Google, Social Media, and Blogs and Marketing Lessons from the Grateful Dead.
The brain trust was complete with the addition of David Meerman Scott. Scott is a well known marketing strategist, advisor to emerging cutting edge technology companies, bestselling author of eight books including three international bestsellers, and a professional speaker on topics including marketing, leadership, and social media.The marketing programs Scott has developed are responsible for selling well over one billion dollars in product and services worldwide.
What happens when gun slinging marketing gurus join forces with a mega country star with no respect for status quo? I guess we will find out. The music establishment should take notice.