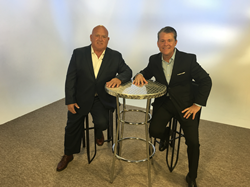 "Big developments are ahead in the world of data, and it will transform the fitness industry in the years to come. It feels great to help make a positive impact," said O'Rourke.
MANDEVILLE, La. (PRWEB) March 03, 2020
Bryan O'Rourke, CEO of Vedere Ventures, a mergers and acquisitions advisory and boutique private equity firm focusing on the fitness, and technology space, today announced an investment in UK based fitNdata. Specific terms are undisclosed.
Fitness and technology leader David Minton is the founding director of the Leisure Database Company based in the UK. Minton is launching fitNdata to offer a series of services relying on a compilation of vast global sources of fitness-related data enabling unique solutions and insights for global clients. Minton is a long time friend and colleague of O'Rourke.
Currently, little is known about the actual number of fitness sites, facilities, growth, or live consumer fitness trends globally. fitNdata is creating a new fitness data platform combining real-time supply data with consumer fitness data and insights for the first time on a global scale. The company will be sharing more information at its global premiere during the IHRSA convention at the Omni Hotel on Thursday, March 19th, in San Diego at 8:00 am.
Minton had this to say about fitNdata and O'Rourke's involvement and investment; "Bryan O'Rourke stands out as a 'super-forecaster' for our industry and one of the few who can see how data and technology will impact society at large and the fitness industry directly. His support is a wonderful endorsement for our vision, and I know Bryan and his partners will be able to help drive new revenue models resulting from the fitness data economy."
This investment by O'Rourke's partners marks their sixth deal in the past four years. The Vedere portfolio includes companies like Motosumo, EcoFit Networks, VertiMax, Fitness24Seven Thailand, and Textey, among others. In the past several years, Vedere has represented several clients in M&A advisory roles, including the recent strategic sale of Gordon Johnson's Gold's Gyms and GainLine's recent investment in global fitness equipment company Core Health and Fitness, where O'Rourke was a key advisor.
O'Rourke has guided over 40 financial and strategic transactions in his career, which began in the food industry where he became CFO of a large global franchise and hospitality conglomerate. Since then, he and his partners have been part of the growth of dozens of businesses in technology, distribution, food and beverage, franchising, and fitness. He currently advises some of the leading global brands in the fitness and technology space and is a board member of IHRSA and CEO of the Fitness Industry Technology Council.
Kresten Juel Jensen co-founder of Motosumo, one of Vedere's portfolio companies, had this to say about working with O'Rourke and his partners, "The team and I at Motosumo have appreciated Bryan and his partners' involvement and support since the beginning. His strategic advice has been invaluable. Many are right to consider Bryan as one of the top leaders and thinkers in technology and business development in our industry. We are proud to have him involved."
O'Rourke and his partners' companies are a group of 14 operating businesses focused on fitness and technology, including Moon Mission Media, a digital marketing firm, and Vedere Ventures.
One of O'Rourke's long time friends and a partner in Vedere, health club, and fitness industry veteran Robert Dyer, had this to say about the investment, "The Vedere team is very excited to partner with such an accomplished friend like David Minton. Our group understands the increasing value of insights that will come from big data. Our relationships and efforts around the globe to support initiatives that will make a big difference for our industry will only continue."
Minton was a guest on O'Rourke's Fitness + Technology Podcast last year after they sat on a panel together in Bologna, Italy, at the ForumClub event. "It is a great honor to be involved with David and his colleagues on this project. I've known and respected David for a long time, and it is very fulfilling to be involved with people we care about and believe in. Big developments are ahead in the world of data, and it will transform the fitness industry in the years to come. It feels great to help make a positive impact," said O'Rourke.
About Vedere Ventures
In addition to advising clients in strategic transactions, Vedere Ventures has made investments in health club, fitness, and technology companies in Europe, the Americas, and Asia. Mr. O'Rourke and his partners, including Robert Dyer, and other notable leading health club and fitness industry professionals, have advised leading global brands in fitness, health clubs, and related technologies for several decades.
Learn more at http://www.vedereventures.com
About Bryan O'Rourke
Mr. O'Rourke serves on the board of directors of the global health club industry association IHRSA and serves as chairman and CEO of the Fitness Industry Technology Council. He has a background in finance, marketing, business development, and M&A and has been advising firms on strategic transactions and initiatives in a variety of industries for the past 30 years. He has active investments in fourteen operating companies, has written six books with colleagues in the fitness and health industry, and keynotes on consumer and technology trends in health, fitness, and technology around the world.
To learn more visit bryankorourke.com and https://www.linkedin.com/in/bryankorourke/
About fitNdata
fitNdata is a start-up from the UK based The Leisure Database Company and fitness leader and entrepreneur David Minton. The business will create a new fitness data platform that combines a variety of data, including real-time supply data and consumer fitness data to deliver unique services and insights for global fitness brands.
To learn more visit The Leisure Database Company https://www.leisuredb.com/
About Moon Mission Media
Moon Mission Media is a boutique strategic marketing advisory group with a network of specialists who have been guiding brands collectively for over 50 years. With expertise in technology, franchising, fitness, health, and wellness, the Moon Mission Media team has advised and managed leading global, national, and regional brands on strategy, marketing, creative, technologies, and communications successfully for years.
Having relationships with a significant group of operators, suppliers, and industry groups, the Moon Mission Media team is deeply familiar with trends, opportunities, and challenges facing both the industry as a whole as well as specific technology providers, among others.
As a boutique firm, the team takes on a limited group of clients taking a hands-on approach with all projects, working with each clients' unique businesses to gain an understanding of key issues, opportunities, and methods to achieve business goals.
Moon Mission Media can help with any or all aspects of marketing from Strategic Planning, Digital Marketing, Thought leadership, Social Media, PR, etc.
http://www.MoonMissionMedia.com