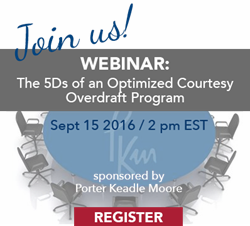 Despite some of the uncertainty surrounding discretionary overdraft programs, consumers still have short-term liquidity needs that can be successfully met with a discretionary overdraft service." Jeffrey Harper, President of BSG Financial Group
(PRWEB) September 08, 2016
BSG Financial Group, a leading provider of revenue-enhancement programs and compliance solutions for financial institutions nationwide, will present a webinar entitled "The 5 Ds of an Optimized Overdraft Privilege Program." The free webinar, hosted by CPA firm Porter Keadle Moore, will outline for financial institutions the essential elements of a modern overdraft privilege program that optimizes income and service, while managing risk. The webinar will be held Thursday, September 15, 2016 at 2 p.m. EST.
"Despite some of the uncertainty surrounding discretionary overdraft programs,
consumers still have short-term liquidity needs that can be successfully met with a discretionary overdraft service," said Jeffrey Harper, President of BSG Financial Group. "If your financial institution is considering providing overdraft protection, or even if you already do, the proven strategies outlined in this webinar will help offer world-class service to account holders while managing risk."
During this 60-minute webinar, Harper and Erik Hoghaug of Hoghaug Consulting, LLC, will outline the essential elements of a modern overdraft privilege program and discuss the following:

The Impact of a CFPB Decision
Why an overdraft service is welcomed by customers and not a "gotcha" product
The Five Ds of an Optimized Program:
o Dynamic Overdraft Limits
o Debit Denial Tracking
o Dynamic Communication
o Detailed Reporting
o Dedication to Compliance
Who: BSG Financial Group in conjunction with Porter Keadle Moore
Presenters: Jeffrey Harper of BSG Financial Group and Erik Hoghaug of Hoghaug Consulting, LLC
When: Thursday, September 15, 2016; 2:00 PM - 3:00 PM EDT
Registration: https://attendee.gotowebinar.com/register/921026083108048641
About BSG Financial Group
Louisville, Ky.-based BSG Financial Group is a group of independently organized companies that provides revenue-enhancing programs—combined with compliance solutions—for financial institutions to help them meet their financial goals. BSG Financial Group has been a provider of innovative overdraft programs since 1999, including the industry's first cloud-based overdraft management solution, Courtesy Connect(R)/Courtesy Limit™.
 
The company's solutions include: Overdraft Management, Fee-Based Packaged Checking Accounts, Digital Lending, Vendor Management, Social Media and Appraisal Management. 
BSG Financial Group includes the following companies: CourtesyCloud Management Solutions, LLC; BSG Financial, LLC; and IQ Development, LLC. For more information about the company, visit http://www.BSGfinancial.com.
 
About PKM
Founded in 1977, Porter Keadle Moore has grown into one of the most respected accounting and advisory firms in the country. PKM represents leading public and private organizations in the financial, insurance and technology industries as well as serving the needs of many small business clients. At PKM, we provide holistic and growth-driven financial solutions built around understanding clients' business challenges, not just their accounting issues. We develop deep relationships with our clients over years, so that working together is a positive, accretive experience for both parties. For more information, visit http://www.pkm.com or call 404-588-4200.