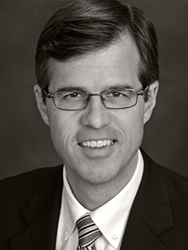 Trevor's impressive track record over the past 12 months and his industry expertise have been invaluable to our company.
LOUISVILLE, KY (PRWEB) March 16, 2017
BSG Financial Group, a leading provider of revenue-enhancement and compliance solutions for financial institutions nationwide, announced today that Trevor Knott, Senior Vice President, Business Development, will be responsible for client development and retention in Pennsylvania effectively immediately. The addition of this state to Knott's territory—which also includes Connecticut, Delaware, New Hampshire, New Jersey, New York, Rhode Island, Maine, Massachusetts and Vermont—is the result of BSG Financial Group's aggressive growth plans for 2017.
Knott is a strategic marketing veteran who has spent much of his career developing and delivering products and services, as well as marketing and distribution programs for top-tier banks and suppliers to the banking industry. He has worked for BSG Financial Group for one year, generating new business in the northeast; forming strategic partnerships across the country; and advising corporate marketing activities.
"Trevor's impressive track record over the past 12 months and his industry expertise have been invaluable to our company," said Jeffrey Harper, President of BSG Financial Group. "We are very fortunate to have someone of his caliber on our team. His efforts have had a demonstrable impact on our growth in New England, while he also enhanced product awareness with our existing customers."
Knott joined BSG Financial Group from Salyent Technologies in Franklin, Massachusetts. There, he served as Head of Marketing Services, overseeing the development and delivery of the company's marketing, consulting and analytics solutions, as well as managing the firm's brand-building initiatives.
Prior to that, Knott held several management positions in a 12-year career at Citizens Financial Group in Boston. His most recent position there was Director of Partnerships & Distribution Strategy, where he managed all distribution and planning activities (budget, performance and regulatory) for over 1,400 branches, 30+ retail banking partnerships and 3,900 ATMs. He was also a member of the Citizens Executive Leadership Group.
Prior to joining Citizens Financial Group, he held leadership positions at Havas/Brann Worldwide/Response Marketing Group in Richmond, Virginia; Fleet Financial Group in Boston; and Signet Banking Corporation in Richmond.
"I am thrilled that BSG Financial Group has entrusted me with an expanded business development territory. Now I will be able to share the company's impressive history and unique value proposition for increasing revenue and streamlining processes with even more financial institutions," said Knott.
About BSG Financial Group
Louisville, Ky.-based BSG Financial Group is a group of independently organized companies that provides revenue-enhancing programs—combined with compliance solutions—for financial institutions to help them meet their financial goals. BSG Financial Group has been a provider of innovative overdraft programs since 1999, including the industry's first cloud-based overdraft management solution, CourtesyConnect®/CourtesyLimit™.
The company's solutions include: Overdraft Management; Fee-Based Packaged Checking Accounts; Digital Lending; Vendor Management; Account Acquisition Strategies; and Social Media.
BSG Financial Group includes the following companies: CourtesyCloud Management Solutions, LLC; BSG Financial, LLC; and IQ Development, LLC. For more information about the company, visit http://www.BSGfinancial.com.