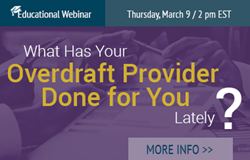 Much has changed in the past twenty years, and far too many overdraft programs are running on 'auto-pilot.'
LOUISVILLE, KY (PRWEB) February 28, 2017
BSG Financial Group, a leading provider of revenue-enhancement programs and compliance solutions for financial institutions nationwide, will present a webinar on Thursday, March 9 at 2 p.m. EST entitled "What Has Your Overdraft Provider Done for You Lately?" The free webinar—which is part of an ongoing educational series that the company provides for its clients and potential customers—will present evaluation criteria and key metrics to help attendees assess their current overdraft service provider relationship and overdraft program performance.
"Over the past 20 years most financial institutions have partnered with a third-party overdraft provider. Much has changed in those twenty years, but far too many programs are running on 'auto-pilot," said Jeffrey Harper, president of BSG Financial Group. "There are so many opportunities to improve compliance, income and service with regard to overdraft management. If your service provider hasn't communicated these to you or enhanced its software, then you have to ask yourself, 'What has my overdraft provider done for me lately?'"
The webinar is also relevant to institutions that do not currently utilize an automated overdraft solution or are considering adopting a third-party solution, as they will learn the 'must-have' elements of a compliant, consumer-focused discretionary overdraft service.
During this 60-minute webinar, industry expert Erik Hoghaug of Hoghaug Consulting, LLC, will provide a 'road map' to evaluating an overdraft provider in critical areas, such as technology advancements; program costs; customer requirements; and ongoing support & program evaluation.
The session will introduce a number of key performance metrics that should be tracked in order to ensure compliance, service, and risk management, including:

Overdraft Limit Calculation Strategy
Revenue vs. Charge-Offs
Overdraft Activity by Payment Channel
Reg E Opt-Ins and Debit Denials
Counseling Strategies & Communication
Who: BSG Financial Group
Presenter: Erik Hoghaug of Hoghaug Consulting, LLC
When: Thursday, March 9, 2017; 2:00 PM EDT
Registration: http://BSGfinancial.com/ODproviderWebinar
About BSG Financial Group
Louisville, Ky.-based BSG Financial Group is a group of independently organized companies that provides revenue-enhancement and compliance solutions for financial institutions nationwide. BSG Financial Group has been a provider of innovative overdraft programs since 1999, including the industry's first cloud-based overdraft management solution, Courtesy Connect®/Courtesy Limit™.
 
The company's additional revenue-enhancing solutions include: Fee-Based Packaged Checking Accounts; Digital Lending Solutions; Vendor Management; Account Acquisition Strategies; and Social Media Management.
 
BSG Financial Group includes the following companies: CourtesyCloud Management Solutions, LLC; BSG Financial, LLC; and IQ Development, LLC. For more information about the company, visit http://www.BSGfinancial.com.