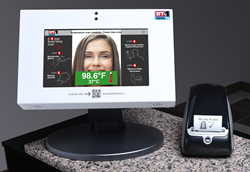 The individual to be screened simply faces the monitor and holds still for a few seconds during the scan.
RICHARDSON, Texas (PRWEB) October 12, 2020
Automatic, touchless temperature scanning makes the BT-1 automatic body temperature screening station from Applied Concepts, Inc. / Stalker Radar the perfect choice for federal, state, and local governments, as well as other public organizations with Buy American mandates.
As more and more people return to the workplace, government offices, restaurants, schools, sporting venues, and other public spaces, proactive COVID-19 screening measures have become the rule rather than the exception. One of the most effective is taking a person's temperature.
On premise temperature scanning shows employees that their health concerns are taken seriously.
The BT-1's 10-second scan time excels at screening groups efficiently and accurately. The individual to be screened simply faces the monitor and holds still for a few seconds during the scan. If their temperature is in the normal range, a confirmation label is printed. If their temperature is outside the preset normal range, an audible alert message is sent.
The BT-1 is a free-standing system that requires no assembly aside from connecting a few cables.
Either Fahrenheit or Centigrade can be programmed in the system configuration. The BT-1 provides verbal cues to guide the person into the right position for temperature measurement.
The BT-1 can communicate through an Ethernet or wireless Wi-Fi network and can be set to send emails when readings are over the temperature measurement threshold.
The BT-1 can download its settings through one of its three USB ports. The settings can then be copied into as many BT-1s as desired for consistent unit-to-unit parameters.
Municipal, state, and county Governments, schools, professional sports teams, and manufacturers around the globe requiring state-of-the-art measurement applications look to Applied Concepts / Stalker Radar products for the utmost in quality and value. These devices are manufactured in our Texas facility and meet the Buy America Act, allowing federal grant money to be used to purchase these products.
The BT-1 is designed to perform the function of measuring body temperature in non-clinical settings.