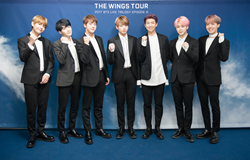 "BTS Videos...are the most viewed videos in a 24 hour period."
New York, NY (PRWEB) March 09, 2017
International K-pop sensation, BTS, are ready to make their mark as they prepare to hit the US in just over 2 weeks. The band are in the midst of making a huge impact on our shores including their upcoming sold out arena shows in NY, CHICAGO and LA.
BTS is causing a unstoppable wave of interest here by entering the music charts with high impact competing with artists such as Lana Del Ray, Ed Sheeran, and more. What makes this remarkable is that the KPOP band sings in Korean which hasn't stopped US fans from taking notice. They have also been nominated in the category of "BEST INFLUENCER" for this year's Shorty Awards, winner to be announced in NYC on April 23, 2017.
The band released two videos in the last 26 days: The first is "Spring Day" released on February 12 to worldwide eyes and views are now at 48 million and counting. The second video, entitled, "Not Today" launched on February 19, leading the iTunes Music Video Chart at #1 for 3 consecutive days. Views as of this writing: almost 45 million and counting. Both videos have seen rapid and unprecedented growth since release with combined views of almost 92 million people.
Billboard's KPOP writer, Tamar Herman, wrote:
"On Tuesday (Feb. 28), YouTube Music revealed that the video for BTS' "Not Today"-- uploaded to the streaming platform on Feb. 19 -- is now the most-viewed video in a 24-hour period to debut on the YouTube Top 100 Chart in 2017, outpacing music videos from every other genre worldwide since January. ... "Not Today" is also the most-viewed Korean track in a 24-hour span to appear on the chart since its debut in February 2016."
http://www.billboard.com/articles/columns/k-town/7709030/bts-twice-speed-past-youtubes-k-pop-view-records
In other charts, BTS leads the Billboard Social 50 Chart at #1 for the past 6 weeks in a row, above highly respected American artists such as Ariana Grande, Ed Sheeran, Miley Cyrus, Beyonce, and more.
Tamar continued, "BTS took over a variety of other charts, many of which only occasionally welcome Korean artists to their ranks. "Spring Day" took the final spot on the Canadian Hot 100 while "Not Today" charted at No. 77. Both songs also appeared on the Spotify Viral 50, with "Spring Day" at No. 38 and "Not Today" at No. 48. And, if that weren't enough, the aggressive "Not Today" took the No. 1 spot on the Twitter Top Tracks chart."
BTS has also just recently announced their participation at KCON in Mexico this year just before they come to the US. Their appearance at the Prudential Center in Newark, NJ will be just the beginning of the American onslaught of this Korean band.
As BTS prepares to hit our shores, they will be available for interviews, limited TV performance, photoshoots and social media takeovers.
2017 BTS LIVE ON THE TRILOGY EPISODE III THE WINGS TOUR dates:
Sat 3/11
Santiago, Chile
Movistar Arena SOLD OUT
Sun 3/12
Santiago, Chile
Movistar Arena NEWLY ADDED
Sun 3/19
Sao Paulo, Brazil
Citibank Hall SOLD OUT
Mon 3/20
Sao Paulo, Brazil
Citibank Hall SOLD OUT
Thu 3/23
Newark, NJ, USA
Prudential Center SOLD OUT
Fri 3/24
Newark, NJ, USA
Prudential Center SOLD OUT
Wed 3/29
Chicago, IL, USA
Allstate Arena SOLD OUT
Sat 4/1
Anaheim, CA, USA
Honda Center SOLD OUT
Sun 4/2
Anaheim, CA, USA
Honda Center SOLD OUT
ABOUT BTS
Hailing from Korea, BTS formed in 2013 consisting of seven members, Rap Monster (Kim Namjun/Team Leader, Rapper), JIN (Kim Seokjin/Vocalist), SUGA (Min Yoonki/Rapper), J-HOPE (Jung Hoseok/Choreographer & Rapper), JIMIN (Park Jimin/Choreographer & Vocalist), V (Kim Taehyung/Vocalist) and JUNG KOOK (Jeon Jungkook/Vocalist, Rapper, Choreographer). The band is part of the world-wide social phenomenon known as K-POP and are lead artists in the genre. They have been featured in publications from Billboard to the Wall Street Journal to teen outlets worldwide.
CONTACT:
FOR MARKETING: Eshy Gazit, CEO, Gramophone Media
Eshy(at)gramophone(dot)media
FOR PR IN THE US: Ellyn Solis / Samantha Alaimo
ellyn(at)ei-pr(dot)com / samantha(at)ei-pr(dot)com
201.665.3942 mobile
212.777.6727 office