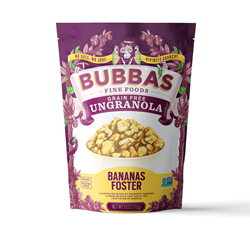 "We've really upped the indulgence on this one," said Bubba's CEO and co-founder Jeff Schmidgal. "It is perfect for satiating those inevitable dessert cravings."
LOS ANGELES (PRWEB) February 26, 2020
Paleo brand Bubba's Fine Foods is excited to announce they'll be launching a new flavor in their oat-free and grain-free UnGranola line at Natural Products Expo West - Booth N1713.
Bubba's, whose claim to fame is their use of prebiotic-packed green Saba bananas that give that perfect crispy crunch without the banana flavor, is fully giving in to the allure of the classic yellow fruit with their new Bananas Foster UnGranola.
This fresh breakfast and on-the-go snack option is Bubba's first to feature nutrient-rich walnuts and will get that decadent Bananas Foster flavor from pureed bananas, smooth vanilla extract, and a dash of rum.
Bananas Foster UnGranola:

Chock full of protein-rich almonds, cashews, pecans, sunflower seeds, and walnuts; kettle crisped green saba bananas; and coconut flakes
Sweetened with banana puree and organic coconut sugar
Packed with vitamins, minerals, and prebiotics for gut health
Low-glycemic
Certified Paleo
Grain-free, gluten-free, soy-free, dairy-free
Free of refined sugars and artificial flavorings
Vegan-friendly
Non-GMO Project Verified
Made in America in the heart of Loveland, Colorado
Additional UnGranola flavors include: Bourbon Vanilla, Dark Chocolate Sea Salt, and Cinn-Ful Apple
Expo West attendees are encouraged to taste the new Bananas Foster UnGranola before it hits the market on May 4th. Bubba's Fine Foods full collection of delectably healthy snacks will be available to sample.
Booth N1713 - Anaheim Convention Center, North Hall Level 200
Bubba's Fine Foods can be purchased at http://www.bubbasfoods.com, Amazon, Amazon EU, Whole Foods, Natural Grocers, Sprouts, The Fresh Market, King Soopers, and select retailers nationwide.
Follow @bubbasfoods on Facebook, Twitter, and Instagram.
Media resources available at: Bubba's Fine Foods Press Kit
About
Since 2014, Bubba's Fine Foods has been at the head of a natural health food revolution where smart, healthy choices finally meet big, bold flavors. Run by gourmet chef Jared Menzel and health coach and former CrossFit trainer Jeff Schmidgall, they're satisfying your naughty and nice cravings with every wholesome green banana they peel, dash of chipotle they sprinkle, and nourishing handful you munch.
To coordinate an interview with Bubba's Fine Foods, contact Brooke Daily at brooke@veteranpr.com.