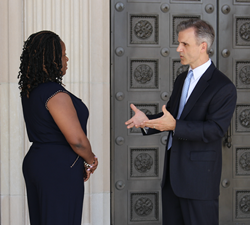 "My firm is strongly committed to determining how best to serve clients," said Murphy. "Having a location convenient to those in Philadelphia, New Jersey, and areas throughout Pennsylvania is a boon for all involved."
PHILADELPHIA (PRWEB) June 25, 2019
Licensed in Pennsylvania and New Jersey, Brian P. Murphy has been at the forefront of legal efforts to hold New Jersey and Pennsylvania nursing homes accountable for negligent care for over 15 years.
Mr. Murphy has been in private practice since 2015 when he opened up The Law Firm of Brian P. Murphy, PC.
Singularly focused on cases involving nursing home abuse and neglect, Murphy has successfully represented numerous residents in Pennsylvania and New Jersey who have suffered injury or illness as a result of nursing home negligence. From bedsores, falls, and other injuries to malnutrition, dehydration and wrongful death, Murphy has taken swift action against the long-term care and nursing facilities responsible and has earned significant compensation for his clients.
Murphy is experienced in discerning signs of poor quality care in long-term care facilities, including but not limited to:

Insufficient Staff
False Charting
Unsanitary Conditions
Poor Maintenance
Inattentive and/or Incompetent Staff
And more
Brian has given multiple lectures and authored numerous law articles and legal guides on nursing home abuse and the effective litigation of neglect and abuse cases.
For more information, or to discover more about the convenient new location of The Law Firm of Brian P. Murphy, please contact Brian P. Murphy directly at (215) 579-8500, or visit http://www.thenursinghomeattorneys.com.
All personal injury cases are handled on a contingency fee basis.
Press Release Writing by WebSiteText | Proofreading by The Proofreaders