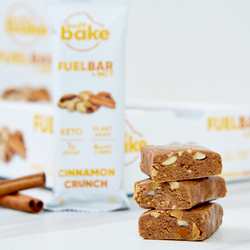 We're proud this new FuelBar + MCT Keto nutritional bar continues to deliver on our brand promise of protein packed deliciousness with a simple ingredient mix.
SANTA ANA, Calif. (PRWEB) May 16, 2019
Buff Bake, a proven leader in high protein, gluten free, cookies, today announced the launch of their new FUELBAR - a unique KETO diet friendly bar with the added benefit of MCT oil to help you feel fuller, longer. The launch of the bar will feature three great flavors - vanilla almond, peanut butter cacao, and cinnamon crunch.
FUELBAR +MCT meets many of today's improved dietary expectations by offering a product that is plant based, low in carbs, and dairy free. The ingredient mix free from sugar alcohols and artificial ingredients, delivers a dose of clean protein and healthy fats for a quick pick me up or post workout refuel. "We saw a need for a great tasting snack bar that delivered on what today's more informed consumers are looking for in nutrition.", remarks Ryan Queen, Co-Owner and VP of Sales at Buff Bake. "We're excited to expand our product offering to cover a broader range of dietary needs including those seeking the nutritional benefits that match KETO standards. We're proud this new product continues to deliver on our brand promise of protein packed deliciousness with a simple ingredient mix."
The inclusion of MCT Oil in the FUELBAR unlocks added benefit for snackers by leveraging this healthy fat to help increase energy levels, improve brain function, speed up your metabolism, and suppress your appetite. All this in a snack bar that delivers 220 calories and 13g of dietary fiber with only 1g of sugar and 4 net carbs.
"We want customers to expect better options from their protein snack providers." said Queen on the needs FUELBAR addresses. "We're happy to be pushing the category forward with the FUELBAR an we're confident that customers seeking a low carb, low sugar snack will love the taste and benefits that this bar delivers on.
About Buff Bake:
In 2014, frustrated with a lack of variety of delicious, high protein snacks on the market, one of Buff Bake's founders, Brittany Boeckle, took to the kitchen to create a line of products that used clean, all natural ingredients to fill this missing void. Since then, they have created the best version of our favorite snacks, by removing the bad and replacing it with the benefits of high protein, less sugar, and clean ingredients that put taste before all else.
Buff Bake, is now available in 5,000 retails stores nationwide, including 7-Eleven, Publix, Wegman's, Sprouts, Whole Foods and more. Driven by innovation, they will continue to create better-for-you protein snacks that provide your body with the fuel it needs for any activity. On a hike, after the gym, or with your morning cup of coffee. Buff Bake truly is Fuel for All, with a quality your entire family can count on.
Learn more at https://buffbake.com/