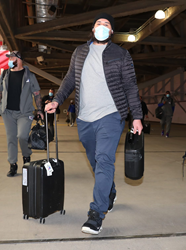 I'm not one-dimensional, and neither should be my fashion. I wanted to partner with a retailer like Fortmens—one that would be able to provide me with the look and fit that I need for my life beyond football. - Jon Feliciano, Buffalo Bills Offensive Lineman
ORCHARD PARK, N.Y. (PRWEB) November 18, 2020
Buffalo Bills offensive lineman Jon Feliciano has been named Fortmens' first U.S. influencer. The recently launched U.K.-based clothing retailer offers premium brands for men sizes 2XL to 8XL. Feliciano will feature fashions available on the Fortmens website on his social media platforms in the coming year.
"Our objective was to partner with an athlete who has an appreciation of big and tall premium brands and is also visible to a diverse cross-section of American consumers," said Fortmens director Katie Perkin. "Jon's fanbase spans both coasts and reaches communities large and small – for a growing fashion and lifestyle brand, and he's an ideal representative."
Currently, more than 70 percent of U.S. men would classify as 'big and tall,' but over the years, premium brands for men of this demographic have been slow to emerge. According to many sources, men will outpace women regarding luxury fashion apparel purchases over the next several years.
"I'm not one-dimensional, and neither should be my fashion. I wanted to partner with a retailer like Fortmens—one that would be able to provide me with the look and fit that I need for my life beyond football," said Feliciano.
With the Christmas shopping season upon us, buyers can immediately use the code JON15 to receive 15% off any items on the Fortmens website at http://www.fortmens.com.
###
About Jon Feliciano
In his sixth NFL season, Feliciano is a starting offensive lineman for the Buffalo Bills. In 2019, Feliciano started all 16 games for the Bills, helping the team achieve 425 total offensive yards. Feliciano also earned his first Pro Bowl ballot mention. Drafted in 2015 by the Oakland Raiders, Feliciano was a standout player at the University of Miami. This past offseason, Felicano donated a total of $25,000 to Meals on Wheels South Florida and Feeding South Florida to help those impacted by the COVID-19. He's also an active supporter of causes facing the Latino community, donating more than $8,000 to education-focused nonprofits like the Hispanic Scholarship Fund and Latinos in Action. Off the field, Feliciano is also an avid gamer, chef, and writer. Feliciano is on Twitter @mongofeliciano and Instagram @jonathanfeliciano.
About Fortmens
Fortmens is a global online store focusing on big men's fashion sizes, 2XL-8XL (*European sizes). Their premium European brands are hand-selected for high-quality fabrics, modern style, and perfect fit. The founders' 50-year family history in the fashion industry dates back to 1960 when their grandfather opened his first menswear store in Auckland, New Zealand. Since then, their family transformed the New Zealand store into Begg's Big Men's Clothing, creating the first menswear store in New Zealand that focuses on big sizes. Co-founders Gareth and Katie, currently living in the United Kingdom, have further transformed their vision with brand new online store Fortmens-- offering premium quality big size clothing, style tips, and a lifestyle brand to bring big men's fashion into the present. Fortmens website: https://www.fortmens.com Instagram: @fortmens and Facebook: @fortmensclothing