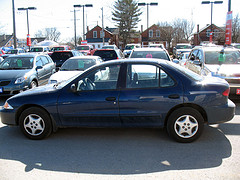 Buick is one of the leading brands across the U.S. and finding a V6 or larger V8 motor is now a lot easier for owners of vehicles
Atlanta, GA (PRWEB) December 12, 2014
Automobile owners who are considering the replacement of a worn out engine for a GM branded vehicle can now use the Revven company to find discount pricing. All Buick used engines that are in stock at http://www.revven.com are reduced for faster sale through next year.
The price reduction that is in place is part of an expansion that was announced earlier this year that concerns dealer partners that supply the Revven company. Better selections in inventory are now being made to improve the quality of preowned motors that are now listed for sale in the General Motors subsidiary inventory.
"Buick is one of the leading brands across the U.S. and finding a V6 or larger V8 motor is now a lot easier for owners of vehicles," said a Revven.com engine expert.
The discounted Buick motors that are now listed at the Revven portal are part of a GM increase in inventory to meet the consumer demand for 1970 to present day motor replacements. Brands like Chevrolet, Saturn and Isuzu that are part GM engine distribution in the United States are now supported for retail sale at Revven.com.
"The motors that appear in used condition on our website are separate from the editions for rebuilt, remanufactured and reconditioned that are also found in the GM inventory this year," said the expert.
The Revven portal is open for consumer use daily and a toll-free number has been added to help handle requests for information. 1-877-808-5529 can now be called from within the USA to speak with product sales representatives. This number can be used to obtain quotes for engines apart from the web based price system.
About Revven
The Revven company provides a detailed inventory of used vehicle motors that can be reviewed or purchased in real time on the web by U.S. consumers. The company has expanded its business operations and is now shipping motors across the nation. The Revven company showcases its low prices for its inventory thanks in part to deals made with company suppliers to help motor buyers receive applicable discounts at the point of sale.