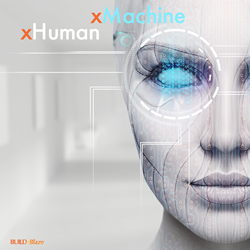 "2020 has been a difficult year. The world is facing a once-in-a-lifetime pandemic that has revealed just how far we haven't come, from healthcare to equality. Our programming during UN General Assembly is meant to inform as well as to inspire us to action."—Radia Funna, founder, Build n Blaze
NEW YORK (PRWEB) September 02, 2020
Today, organizational strategy firm Build n Blaze announced that "The xHuman @ the UN General Assembly" will kick-off online on Tuesday, September 15, on the occasion of the opening of the UN General Assembly. Due to COVID-19, onsite programming has been shifted online premiering on Tuesdays at noon, exclusively on Build n Blaze TV's YouTube channel during the UN General Assembly on September 15, 22 and 29. Subscribe to Build n Blaze TV on YouTube and follow @BuildnBlaze and @BuildnBlazeTV on Facebook, Twitter and LinkedIn to learn more.
So what is xHuman? xHuman is a theory of human and machine co-evolution developed in 2017 by theorist and Build n Blaze founder, Radia Funna. Funna theorizes that a series of important moments "…have stacked on top of one another over space and time to convert our singularly physical existence to an existence of duality—in both physical and digital forms—leading to the rise of the humans whose relationship with machines is so transformational that I have coined them the Exponential Humans or xHuman." (Funna, The Theory of the Exponential Human: Can 4ir Usher in a Gender-Neutral Economy?)
Why bring the xHuman to the UN General Assembly? Funna's time at the UN convinced her that the UN administered Sustainable Development Goals (SDGs) may be humanity's best chance of solving our most persistent challenges, from the devastation of war to our current climate crisis. Yet, an ever growing generational and communications gap threatened its relevance to the very stakeholders needed to make it a reality.
How does "The xHuman @ the UN General Assembly" help?

Funna's theory of the xHuman can serve as a change in perspective at the UN, providing context on just how profoundly the world's stakeholders have been transformed in the 75 years that the organization has existed.
Bringing this perspective via Build n Blaze TV, the organizational strategy firm's first public platform, provides access to anyone with online access without the proverbial "fourth wall"; creating a path to engagement via the hub of social interaction for a new generation and increasingly for those that came before them.
"With all its pitfalls, and there are many, I still believe in the power of social media to democratize knowledge. Bringing my theory of human and machine co-evolution to the UN via social streaming was a one year experiment both to change the perspective of leaders and to bring in the voices of the global public. Watching the devastation of COVID-19 and the critical role social media continues to play in providing information and fueling disinformation; we are convinced that now is not the time to be silent. This perspective is important. This experiment must go on."—Radia Funna, founder, Build n Blaze
About Build n Blaze
Build n Blaze, LLC. is an organizational strategy firm dedicated to providing our clients with data-driven and evidence-based approaches to navigate disruptions (such as technologies of the fourth industrial revolution and socioeconomic shifts) and an ecosystem to achieve transformation. We have a long-term commitment to the future of work, education and parity as well as to the United Nations' administered Sustainable Development Goals (SDGs) for a better world. Based in the Greater New York City Area, our work leverages theories by our founder, the futurist Radia Funna, including her theory of the "Exponential Human" or "xHuman". https://www.buildnblaze.com/ #xHuman #xMachine #17at17