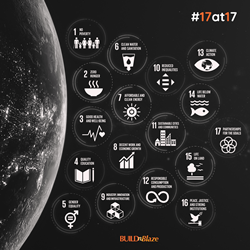 "I brought xHuman to the UN in 2019 and introduced the SDGs to innovation leaders from the UN in 2016, because the UN needs the global public and 21st century technologies to achieve the 2030 agenda. They are OUR goals and that is what makes them so important."—Radia Funna, founder, Build n Blaze
NEW YORK (PRWEB) September 08, 2020
Today, organizational strategy firm Build n Blaze announced that "17at17, The 17 Days of SDGs", its online campaign to increase education and action for the SDGs, will kick-off with Goal 1: No Poverty, on October 1. The campaign will highlight one goal a day for 17 days; then it will dovetail into 75 days to mark the UN's 75th anniversary starting October 18. Subscribe to Build n Blaze TV on YouTube and follow @BuildnBlaze and @BuildnBlazeTV on Facebook, Twitter and LinkedIn to learn more.
In 2019, on the occasion of the opening of the UN General Assembly, Build n Blaze launched its online action campaign, "17at17, The 17 Days of SDGs," to support the UN and its Member States, in their efforts to make 2019 a defining year for the achievement of the SDGs. In January, the firm announced that it will also support the UN's Decade of Action to achieve the SDGs by 2030.
Then came the COVID-19 pandemic. Ripping the band-aid off of inequities and vulnerabilities that have long plagued humanity; it drove home the urgency to achieve SDGs such as good health, clean water and quality education for all. As a result of this increased urgency, this year's "17at17, The 17 Days of SDGs", a 17-day event, will dovetail into a 75-day countdown to mark the UN's 75th year anniversary with UN75 – the UN's most ambitious effort to date to crowdsource priorities and solutions for the future.
Build n Blaze announced its partnership with UN75 earlier this year, a partnership, that aims to listen to the global public on the future they want, with particular focus on youth, marginalized communities and new audiences. Through a one-minute survey at https://un75.online/partner/BuildnBlaze, UN75 gives people a chance to make their voices heard about what is most important to them; especially at this time of global anxiety and uncertainty. The results will be presented to world leaders on September 21, when the international community sets out a vision for the future at the official commemoration of the UN's 75th anniversary.
"At Build n Blaze, we believe in the power of knowledge and discourse. We launched Build n Blaze TV to arm people with information that would be important to them if they were made aware of how much it impacts their future and the future of those they love. We believe that the SDGs fall in that category. From ending poverty and hunger to achieving parity and climate action; the SDGs are the framework the leaders we vote for use to measure success. They are, therefore, our tool to hold them accountable."—Radia Funna, founder, Build n Blaze
About Build n Blaze
Build n Blaze, LLC. is an organizational strategy firm dedicated to providing our clients with data-driven and evidence-based approaches to navigate disruptions (such as technologies of the fourth industrial revolution and socioeconomic shifts) and an ecosystem to achieve transformation. We have a long-term commitment to the future of work, education and parity as well as to the United Nations' administered Sustainable Development Goals (SDGs) for a better world. Based in the Greater New York City Area, our work leverages theories by our founder, the futurist Radia Funna, including her theory of the "Exponential Human" or "xHuman". https://www.buildnblaze.com/ #17at17
About UN75
Launched by the UN Secretary-General in January 2020, the UN's 75th anniversary initiative aims to listen to the global public, with particular focus on youth, marginalized communities and new audiences. Over 12 months, the UN75 team will gather public perspectives on global challenges and solutions on how to tackle them through a one-minute survey, online dialogues, formal opinion polling and media analysis. The results will be presented in September 2020, at the official commemoration of the UN's 75th anniversary, after which UN75 will focus on how best to take them forward, with a final report to be published in January 2021. For more information, see: http://www.un.org/UN75 #UN75