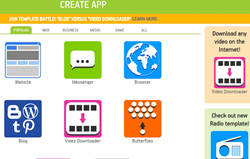 Novelty apps are by far the most useful marketing tool an app maker can have
(PRWEB) December 24, 2015
In recent months the attitude towards novelty apps has changed. No longer are these short-lived apps seen as a failed app due to their limited shelf life, but they are being embraced as apps that are able to grasp audience's attention, enhance brand loyalty and bring overall success to an app maker. AppsGeyser has welcomed this change in attitude, and is providing support to app makers that choose to create novelty apps using a range of the fifty template styles AppsGeyser has on offer.
There are three reasons why there has been a notorious shift in attitude towards novelty apps, these reasons include: the ability to capture new audience members, the ability to build up brand loyalty by creating an on-going range of novelty apps that keep the audience engaged in the app brand and finally, the ability novelty apps have to be used as a marketing tool for an app brand that offers premium apps and apps that have a long shelf-life.
AppsGeyser has over 50 different templates styles available for app makers. These templates can all be customized to fit with a novelty theme. At this time of year there has been an influx of Christmas themed apps and New Year themed apps. The apps created range from novelty gaming apps, to quick quizzes and instant sales apps. For more information on how to create an Android app business, click on through to the AppsGeyser website.
"Wasting time creating an Android app that would only be used for a month seemed a little pointless," said Ram Hammond. "That was until I listened to the potential of using these apps to build an android app audience. The audience numbers for my 'real' apps has increased dramatically."
"Android app makers often underestimate the need to market their Android app business," explains Vasily Salomatov, AppsGeyser CEO. "The main tool offered for app marketing, is an app itself. Novelty apps are by far the most useful marketing tool an app maker can have."
About AppsGeyser
AppsGeyser, launched in February 2011, is now the biggest Free Android App Builder on the market. AppsGeyser's popularity has risen by enabling users to create apps with ease for Android devices from any web content in under five minutes. AppsGeyser has seen more than 2,398,000 apps created on its platform. There have been more than 1.240 billion installations of its apps.