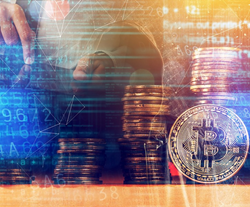 Business leaders should take the cryptojacking threat seriously and implement measures to avoid being victimized.
HOBOKEN, N.J. (PRWEB) November 01, 2018
A NYC area IT consultant and MSP presents cyber-security tips to protect against the growing threat of cryptojacking in a new article on the eMazzanti Technologies website. In clear language, the article briefly explains how cryptocurrencies, such as Bitcoin work and how cryptominers use raw computing power to support the system and earn new coin.
The informative article goes on to describe how unscrupulous cryptominers hijack unsuspecting computer users' processors to lower the cost of the required computations and increase their profits. The article concludes by recommending a multi-facetted cryptojacking defense strategy.
"With the rise of cryptocurrencies, methods of cheating others by stealing their computing resources to game the system were inevitable," stated Jennifer Mazzanti, CEO, eMazzanti Technologies. "Business leaders should take the cryptojacking threat seriously and implement measures to avoid being victimized."
Below are a few excerpts from the article, "Build Your Defense Against Cryptojacking, an Increasing Threat."
Mining for Cryptocurrency
"More often, individuals earn cryptocurrency through a process called mining. Miners solve the complex mathematical equations used to verify digital transactions and release new cryptocoins into circulation. In return, they are rewarded with cryptocurrency."
"Over time, the complexity of the equations has increased, requiring more and more processing power. A single high-end computer might take years to solve the equations that result in a cryptocoin. But with an array of computers, a miner can turn a profit. Enter cryptojacking."
Cryptojacking: An Increasing Threat
"Why buy a farm of computers and the electricity to run them when you can simply borrow the processing power from unsuspecting victims? Unscrupulous cryptominers have turned to hijacking computers, networks and even mobile devices to use the processing power to earn cryptocoins."
"Unlike ransomware, with cryptojacking, you can be a victim and not even be aware that a bad actor has taken over your device's processing power. The most tell-tale signs are increased CPU usage, an overheated device and higher electrical bills. For an organization, this can significantly drain both resources and budget."
Multi-faceted Defense
As the threat from cryptojacking grows, individuals and businesses need to ramp up security measures. Users should never click suspicious links and avoid downloading files from unknown sources. They should ensure that antivirus software looks for cryptomining and keep it up-to-date.
Leaders who suspect their business has been affected by cryptojacking, or who want to prevent the problem before it occurs, should reach out to eMazzanti Technologies. The company's cyber-security experts will conduct an assessment to determine the existence of cryptomining code on all devices and organization web sites.
After an initial assessment, the team will help to implement next generation protocols and multi-layer security to guard against future attack. eMazzanti monitors networks 24/7 for threats, yielding the peace of mind needed to focus on core business issues.
Related resource information:
Don't Fall for Dark Web Sextortion Scam
4 Common Sense Email Security Tips to Safeguard Vital Business Information
About eMazzanti Technologies
eMazzanti's team of trained, certified IT experts rapidly deliver increased revenue growth, data security and productivity for clients ranging from law firms to high-end global retailers, expertly providing advanced retail and payment technology, digital marketing services, cloud and mobile solutions, multi-site implementations, 24×7 outsourced network management, remote monitoring and support.
eMazzanti has made the Inc. 5000 list eight consecutive years, is a 2015, 2013 and 2012 Microsoft Partner of the Year, 2016 NJ Business of the Year, 5X WatchGuard Partner of the Year and one of the TOP 200 U.S. Microsoft Partners! Contact: 1-866-362-9926, info(at)emazzanti(dot)net or http://www.emazzanti.net Twitter: @emazzanti Facebook: Facebook.com/emazzantitechnologies.