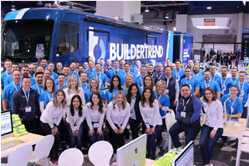 Buildertrend's impressive growth and recognition as Omaha's #1 best place to work is a direct result of the dedication and commitment of and to our growing team – all 500 of them.
OMAHA, Neb. (PRWEB) September 24, 2019
Omaha-based Buildertrend, the leading provider of cloud-based software for homebuilders, today announced it has hired its 500th employee, marking a significant milestone for a company that has maintained 55% year-over-year growth of its workforce since 2018. Buildertrend is commemorating this achievement and welcoming its newest class of 12 hires that round out its 500-employee headcount with a company-wide celebration.
As one of the largest privately held technology companies within the Silicon Prairie, Buildertrend has celebrated 50% year-over-year growth for nearly the past decade. The company's co-founders credit its continued success as a direct result of Buildertrend's most valuable resource – its people.
"Every day, we strive to create a work environment that measures up to our internal motto of 'life is better at Buildertrend,' where employees feel valued, rewarded and empowered to take on new opportunities, with a company commitment to promoting from within," said Dan Houghton, co-founder and executive vice president at Buildertrend. "Buildertrend's impressive growth and recognition as Omaha's #1 best place to work is a direct result of the dedication and commitment of and to our growing team – all 500 of them."
Buildertrend anticipates achieving an employee retention rate of over 85% for 2019, attained through a management philosophy that celebrates hard work, trust and collaboration, along with benefits and perks like flexible hours, incentive stock programs, opportunities to support local non-profits, 401(k) matching and social activities. Employees enjoy regular opportunities to build relationships with team members and senior leadership, as well as nearly unlimited opportunities for professional advancement. In fact, projections indicate that between 50 and 60% of the company's current workforce will take on a new role or be promoted by the end of 2019.
Buildertrend's unique and rewarding culture has not only helped it to attract top talent but has also earned the company local and national accolades. Earlier this year, Buildertrend was awarded by Baird Holm LLP as the #1 Best Place to Work in Omaha for companies with 200 or more employees and was recognized as a finalist for the 2019 North America Employee Engagement Awards.
"During my tenure at Buildertrend, I've grown as a professional and as a person. The company provides constant opportunity for growth, and I've been able to experience a variety of positions while working in an environment that's exciting, challenging and rewarding," said Tayler Ross, who started working at Buildertrend in 2016 as a customer success manager and is now a senior manager in the customer success department. "Being a part of Buildertrend's success and watching our team grow has been one of the most exciting parts of working here. The people make coming to work every day a joy, and I wouldn't want to be anywhere else at this stage in my career. I can't wait to see what we do next together."
The company is currently hiring top talent to fill positions within its sales, software development and customer success teams. To learn more about available career opportunities at Buildertrend, visit https://buildertrend.com/careers/.
About Buildertrend
Buildertrend is the #1 cloud-based project management software tool used by homebuilders, remodelers and specialty contractors. Trusted by nearly 1 million users across 58 countries, Buildertrend is the preferred platform for streamlining real-time collaboration throughout each stage of the construction process. To learn more about Buildertrend, visit buildertrend.com and @buildertrend.