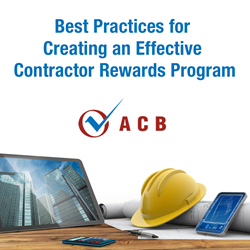 Contractor Reward Programs can quickly drive sales results for manufacturers to capitalize on the signs of a re-emerging economy
NEW YORK (PRWEB) July 23, 2020
The recent economic impact from the COVID-19 pandemic has contributed to a slowdown in consumer spending and homeowner remodeling, prompting careful planning by forward thinking manufacturers to create distributor and contractor-based incentives aimed at quickly increasing sales volume and future brand loyalty.
Recent practices focused on announcing the program to contractors with general teasers to stir up excitement. Specific details and marketing materials are communicated as the launch date approaches, coupled with training sessions and ongoing education. Manufacturers allow contractors and distributors to select their choice of reward including merchant gift cards and prepaid cards. Many manufacturers use rebate rewards programs as an opportunity to learn more about their contractors and their needs through embedded surveys throughout the registration and claiming process.
"In a time of economic recovery, it is crucial for manufacturers to actively seek out ways to build and retain distributor and contractor loyalty. With the eventual re-emergence of residential construction and remodeling investment by homeowners, distributors and contractors will support brands which offer reward programs that provide financial incentives. These incentives can lead to larger repeat purchases and brand loyalty." – John Portelli, Sr. Vice President, The Advertising Checking Bureau, Inc.
Specific sectors of the industry are expected to experience a quicker rate of recovery and others will lag due to shaken consumer confidence, stock market volatility and job loss. To offset these effects, manufacturers are releasing targeted rebate promotions throughout the year to create opportunities for contractors and distributors. Select rebate programs have focused on first time users or regions and states, while others offer promotional rewards based on escalating sales objectives.
Contractor reward programs can quickly drive significant sales for manufacturers to capitalize on the signs of a re-emerging economy. Reward programs often deliver higher long-term profitability, increase contractor loyalty, encourage repeat purchases, provide contractor insights, and maintain the integrity of manufacturers' brands.
A complete copy of ACB's Top 10 Best Practices for Creating an Effective Contractor Rewards Program can be downloaded now.
ACB is a fully U.S. based operation addressing the marketing services needs of brands, manufacturers, service providers and their advertising agencies. For more information on ACB solutions covering Rebates, Sales Incentive Programs, Co-op Advertising and Compliance Program Administration, please visit acbcoop.com or contact us at sales@acbcoop.com
ACB is headquartered in New York City with client service offices in Memphis, TN and Tempe, AZ. For additional information, Contact ACB.