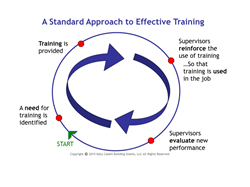 PETALUMA, Calif. (PRWEB) December 10, 2019
In spite of the millions spent on workforce training, researchers are hard-pressed to define what has changed as a result. We know from research from a variety of studies that most spending on organizational development—estimates range from 60 to 90 percent—are wasted. Katy Caselli, Founder and President of Building Giants, LLC says the reason that training fails is due to organizations missing one or more of the crucial steps in the training process. She calls it a critical misunderstanding between training providers, such as the Human Resources or Learning and Development Departments and the direct leaders of employees. It causes ongoing frustration for leaders and human resources staff who get sluggish results, unmet timelines, and low-level skills and performance. Meanwhile, new technology, business trends, and competition add urgent pressure for businesses to keep up.
Experts agree that, for the typical adult, recalling more than 10%-20% of the content within a few weeks of the training is all that can be expected. Certainly, the ability to apply the learning is a tremendous factor in the potential success of a training program.
Unfortunately, research shows that if one hundred participants go to a soft-skills class, we can expect that 85% of attendees will not use the new skills in the job enough to have a business impact. Training works the best with high performers (they are the top 15% and they go after new skills proactively). As for the folks who showed no real result, forty percent of these losses are due to skipping a meaningful needs assessment, twenty percent is due to poor training and another forty percent is due to a lack of application opportunity.
Caselli calls this failure a bias towards the classroom. "Often organizational leaders hope it will all happen in the classroom. But we have to follow them out of the learning event to carefully monitor and facilitate the use of the skills," she says. "We have to consider students to still be in the classroom, even though they have returned to the job."
Organizations often look for a silver bullet to fix people's learning problems. While silver bullets are rare, Caselli maintains there is a clear and simple path to providing training that improves the workforce, makes the organization more competitive, and keeps industry strong.
Her four-step model describes the needed steps for workplace learning to solve actual workplace problems. The key is, that both human resources/instructors and direct leaders need to be involved, in partnership, to make training succeed.
It starts with an accurate diagnosis of what the organization and students need in order to meet business goals. Many students are sent to classes that are a waste of time for them. Since 40% of losses happen right at the beginning, it pays to use a simple, structured process to determine the true cause of the problem.
Then the training session itself develops the new skills/behavior in learners that would meet that need (hint: dry, boring slide presentations don't do this).
Then, attendees go back to the job, where their direct leaders assign them to use new skills and behavior and lend them support when they encounter obstacles.
Lastly, an evaluation must happen. Did students actually succeed with the new skills? This is the time to reward students with well-earned recognition, preferably at performance evaluation time.
And, positive changes must be reported. Did the business need go away? Were dollars saved? Rejects prevented? Customers gained? Interest in training as a performance strategy falls when no results are shown afterwards, often resulting in lost training budgets and headcount reduction. Caselli emphasizes: "After all that effort of making training happen, a report of the positive changes is critical to add momentum to a learning culture and build credibility for Human Resources and Learning and Development professionals, helping to recession-proof their jobs."
Katy Caselli is a workforce development expert, Instructor, Author and Organizational Psychologist. Her groundbreaking training formula is featured in the book Building Giants, A Proven System to Transform Your Workforce Through Effective Training.
She is the Founder and President of Building Giants, LLC. See more at https://www.buildinggiants.com/.
Connect with Building Giants on LinkedIn: https://www.linkedin.com/company/16158797.
Notes:
1. ATD's State-of-the-Industry-Report (2013, Dec.) $164.2 Billion spent on training and development by US companies. https://www.td.org/insights/1642-billion-spent-on-training-and-development-by-us-companies
2. 10% to 20% of our training efforts transfer to the job (Brinkerhoff & Gill, Baldwin & Ford, & others).
3. Training accounts for 10% of the potential for changing performance on the job (Rummler & Brache).