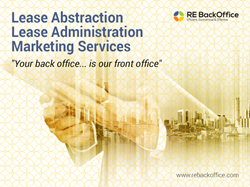 RE BackOffice (REBO) looks forward to an exciting 2019.
PITTSBURGH (PRWEB) March 15, 2019
RE BackOffice (REBO) Inc., the Pittsburgh-based, leading lease abstraction and commercial real estate marketing services company, announced double-digit growth in 2018. Expanding to new markets and broadening service lines were key to REBO's growth last year.
In 2018, apart from working with industry leading clients on lease abstraction and marketing services, REBO focused on growing its commercial lease administration services. New partnerships with commercial lease management firms allowed REBO to offer the service on a larger scale.
During the year, REBO also opened another office in Chandigarh, India, to keep up with the demands of its growing client base offering 24/5 global support to its customers.
Holly Khera, CEO, RE BackOffice says, "We had a great 2018 and look forward to continued growth and long-term success in 2019 and beyond. The dedication and professionalism of our team is unmatched. At REBO, we believe the best partnerships are built on trust, open communication and a sincere commitment to long-term success of our employees and our clients. With that as our foundation, we will continue to work hard, deliver high-quality services, and make life better for our employees and clients in 2019. "
About REBO
RE BackOffice, Inc. is a premier provider of strategic back office functions, including lease abstraction, lease administration, and marketing services. Since 2006, REBO has been a trusted partner to top-tier commercial real estate companies, retailers, and service providers seeking a strategic advantage. Whether abstracting a portfolio of leases or providing graphic support through stacking plans, renderings and websites, RE BackOffice's team of professionals is dedicated to delivering high-quality services and optimal ROI to our clients. At RE BackOffice, your back office – is our front office. For additional information about RE BackOffice, call 412.567.0010, email support@rebackoffice.com or visit rebackoffice.com.