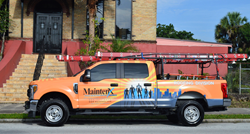 MaintenX is always excited to learn more about what our industry partners need from their facility maintenance provider.
TAMPA, Fla. (PRWEB) February 22, 2019
MaintenX International, one of the nation's largest providers of preventative and reactive facility maintenance services, is expanding their roofing capabilities across Florida. As part of the expansion and to better network with all property managers throughout Florida, MaintenX has joined Building Owner and Managers Association (BOMA) International Chapters across Florida.
As a BOMA International member and Gold Level Sponsor in Jacksonville, and with memberships in chapters in Miami and Fort Lauderdale, MaintenX technicians have access to unique commercial real estate advocacy, influence and knowledge.
"MaintenX is always excited to learn more about what our industry partners need from their facility maintenance provider," said Bill Schaphorst, MaintenX's VP of Business Development. "Our BOMA International memberships will help our technicians maintain their innovative edge and ensure that we provide customers with the services they need to successfully operate their commercial properties."
In additional to BOMA International, MaintenX is also an active member of the National Roofing Contractors Association (NRCA) and the Florida Roofing and Sheet Metal Contractors Association (FRSA). MaintenX is also an approved applicator for a range of roofing manufacturers, including General Electric, Carlisle and Firestone.
MaintenX technicians have provided exceptional maintenance services for more than 40 years, and Roofing Division managers have more than 85 years of combined roofing experience. This wealth of experience allows MaintenX to execute consistently on all facility work. No matter the project size, it is done in a world-class way.
MaintenX consistently provides superior maintenance and roofing services to facility managers in Florida and across the nation. To learn more about MaintenX, visit http://www.maintenx.com.
ABOUT MAINTENX INTERNATIONAL:
MaintenX International is a fully licensed, facilities repair company. As one of the largest national self-performing facility maintenance and repair companies in the U.S., MaintenX has created a wide network of knowledgeable and professional technicians throughout the country. With their team of well-trained technicians, MaintenX self-performs and manages facility maintenance for their clients. In the event there is not a MaintenX technician in an area, the company has established a network of preferred vendor partners throughout the country for continued superior service for their clients. For more than 40 years, MaintenX has been expertly serving multi-location retail stores, restaurant chains and Fortune 500 companies nationwide.