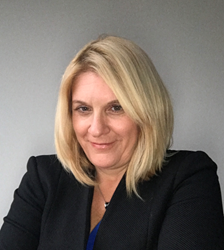 Tina's deep enterprise security experience, business acumen, and leadership skills will help guide Alcatraz as it innovates a traditional market.
REDWOOD CITY, Calif. (PRWEB) September 02, 2020
Security industry leader Tina D'Agostin has joined Alcatraz as Chief Revenue Officer. D'Agostin brings deep enterprise security and building technology experience that will accelerate Alcatraz's go-to-market strategy for its revolutionary facial authentication platform for physical access control. D'Agostin will oversee sales, marketing, and customer success for Alcatraz's enterprise customers.
"I am thrilled to have Tina D'Agostin join Alcatraz as CRO," said Alcatraz Chief Executive Officer and Founder Vince Gaydarzhiev. "Tina's deep enterprise security experience, business acumen, and leadership skills will help guide Alcatraz as it innovates a traditional market. Her successes and leadership with the largest security company and system integrator in the world – as well as her work with startup and F100 environments – are an incredible asset to our team."
Tina D'Agostin comes from Johnson Controls, where she most recently was the General Manager of Building Technology & Solutions for Northern California. In her tenure with Johnson Controls, D'Agostin continually grew annual revenues, while expanding profitability and working with leading Silicon Valley companies across a multitude of verticals. She has held management positions at other security companies, including Niscayah (now part of Stanley).
"It's exciting to be on the ground floor of such an innovative company like Alcatraz that's truly disrupting the industry by delivering technology that will create a new category of autonomous access control," said D'Agostin. "I'm drawn to solutions that deliver intelligent buildings, integrated infrastructure, and next-generation access control systems that work seamlessly together to deliver on the promise of smart cities and buildings. Our Alcatraz Rock edge device, powered by AI, is a solution that delivers in these areas and in so much more."
Alcatraz, founded by Apple alumni, has changed the way that companies leverage access control systems, by providing a facial authentication solution that leverages 3D, artificial intelligence and analytics to modernize their existing access control technology. Enterprises are choosing to deploy the Alcatraz Rock as their first line of defense against unauthorized access – to deliver effective and secure autonomous access control.
Because Alcatraz's platform also detects masks, it has become the perfect post-COVID solution for businesses that want to deliver touchless security in their buildings while observing state and local mask mandates.
D'Agostin has studied innovation and entrepreneurship at Stanford University and international business from Regent's University London. She holds an MBA and a bachelor's degree from Rockford University.
For more information on the Alcatraz Rock and touchless access control solutions, visit the newly-revised website at http://www.alcatraz.ai or contact sales directly at sales@alcatraz.ai.