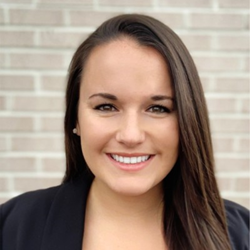 I love working in organic SEO because I succeed by helping other women in tech succeed.
LOS ANGELES (PRWEB) April 29, 2021
Built In has announced that Bridget Reed, Head of Content at GR0, was honored in its 2021 Moxie Awards. The annual awards program recognizes 50 outstanding women in tech who have made outsized contributions to their places of work, communities and the industry as a whole. GR0, a digital marketing agency in Los Angeles. GR0 specializes in search engine optimization through the creation of compelling online content to help brands own their audiences.
Built In's open call for nominations saw more than 400 applications this year. An esteemed panel of judges, all women who joined in a shared mission to empower women in tech, reviewed the nominations and chose the 50 women who they believe showed the most moxie — a combination of courage, determination, energy and know-how. The winners of the 2021 program show outsized passion, achieve excellence in their respective fields and uplift other women.
"These women raise the bar for what it means to be a rising leader in technology," says Sheridan Orr, Chief Marketing Officer, Built In. "Their courage, determination, energy and know-how will drive them to the pinnacle of their careers in tech, and motivate other women to do the same along the way."
Kevin Miller, Co-Founder and CEO of GR0, concurred: "This recognition couldn't go to a more deserving employee whose work and contributions we consider to be a model for excellence."
Reed, a mother of three with a B.A. of Business Administration from St. Petersburg College, has played a crucial role in digital marketing agency GR0's first year. She works to create engaging and purposeful content that helps brands rank on Google, and receives high accolades from her colleges for supporting them. As a wife and mother of three, Reed exudes passion in her work at GR0 and motivates those around her, while also delivering impressive results.
"I'm honored to be recognized by Built In as a 2021 Moxie Award winner. The tech world is a dynamic industry, and there's no better place to be than at a company like GR0. I love working in organic SEO because I succeed by helping other women in tech succeed. Here's to many more years of professional and personal growth in tech!" says Reed.
Built In's Moxie Awards Program was eligible for individual contributors, managers, directors and VPs — those with room to grow in their careers — who work in the technology industry. Moxie Award nominations were accepted for any person who identifies as woman, whether through gender identity, gender expression or sex.
You can learn more about all of Built In's 2021 Moxie Award winners here.
ABOUT BUILT IN
Built In's mission is to connect the world through a shared passion for tech and the human need for purpose. The technology recruitment platform helps 1,800 customers of all sizes attract best-in-class talent to their technical roles of the future. Through content and digital recruitment solutions, Built In amplifies these companies' brands, whether they want to be known as national, local or remote employers of choice, or leaders in DEI. Monthly, 2.5 million tech professionals visit Built In to read our industry coverage, including trends and breaking news, and discover stories about companies with missions they want to join. The venture-backed platform has been included in Deloitte's Technology Fast 500™ for two consecutive years and was included in the 2020 Inc. 5000 list. http://www.builtin.com
ABOUT BUILT IN'S MOXIE AWARDS
Built In's Moxie Awards ran for seven years, highlighting the most innovative companies in Chicago tech before pausing in 2018. The program returned in 2021 to honor outstanding women in tech across the nation. The program recognizes up-and-coming women in tech and tech-adjacent roles who go above and beyond in their organizations and the industry as a whole.