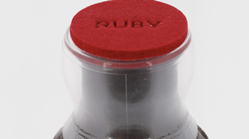 LOS ANGELES (PRWEB) November 23, 2021
BulbHead's Ruby Sliders have been featured in a review from Men's Journals that says "There are innumerable ways these sliders save your floors and surfaces every day without sacrificing style or quality." Written by Tom Lorenzo, the review goes on to explain how this innovative new product can help keep stone and hardwood floors scratch-free by keeping furniture legs soft.
Available in a pack of eight or 48, Ruby Sliders are designed with flexible plastic sleeves that can adapt to the shape of your furniture, covering both square and round edges. These feature soft, red padding to support your furniture and help it brush against the floor without making noise or damaging the floor itself. This padding is constructed from a premium nano-weave felt that is attached with an industrial-strength adhesive to ensure it doesn't come off. As the review notes, Ruby Sliders also provide furniture with the ability to easily slide along hard surfaces, meaning that furniture can be rearranged as desired. Lorenzo notes that "We don't even notice they're there, but we do notice that our floors and surfaces remain immaculate."
Parent company BulbHead works to develop smart solutions for everyday problems. Tackling issues encountered in the home, garden, kitchen, or related to kids, pets, beauty, and healthy living, these innovative products make life easier. BulbHead is an America-Based company that has served over 100 million satisfied customers and is secured through Shopify. As a trusted brand since 2015, they additionally provide free shipping on all orders over $50.
About BulbHead: BulbHead designs innovative solutions to make everyday life more convenient. Based in America, the company sells items for every aspect of home life from the kitchen to the bathroom that will help you save both money and time. For more information and to browse the full catalog, visit http://www.BulbHead.com.