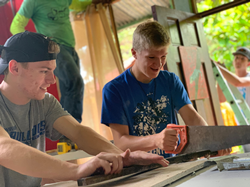 Their outlook on life has been altered forever, and, as an educator, I believe that is the truest definition of learning.
DALLAS (PRWEB) July 16, 2019
Two Fulton City high school students, Cade Malray and Cameron Madding, were recently awarded the opportunity to attend a service learning program in Atenas, Costa Rica through a local nonprofit, Bright Light Volunteers. The service learning program provided the boys, and the other twelve students who attended, an opportunity to change the world through education, service, leadership, and personal growth.
Neither of the two Fulton City boys had ever traveled out of the country, so the trip in and of itself was nothing short of life changing. The group of 18 served in the local primary school, teaching the students English vocabulary, dance lessons, and games. The participants also served the host school by helping the local teachers, who spoke minimal English, learn new words to help better communicate with their students.
Another service initiative that program participants took part in involved spending a full day in the Costa Rica Animal Rescue Center (CRARC) putting up dry wall, digging compost holes, raking leaves, cleaning out the animal cages, and unloading, washing, and chopping veggies for the animal kitchen. It was a long eight hours of work, but with wildlife trade being the world's 4th most profitable global crime, the group's effort at the CRARC was not done in vain.
As Chelsea Farmer, the educator that organized this group of students best put it: "Lisa Ling once said 'the best education one could ever receive is through travel.' There is something almost magical that happens when young people are exposed to a way of life that is foreign to them, and the community of Atenas provided our students with an unforgettable adventure. After teaching in the schools, working in the animal rescue facility, and exploring the city's cultural aspects, the Fulton students were in awe of this 'whole new world' they had discovered. It is safe to say that their outlook on life has been altered forever, and, as an educator, I believe that is the truest definition of learning."
When asked the scholarship students what they felt inspired to do with their newfound global knowledge acquired on the program, Cameron stated that he's going to make efforts to eliminate single-use plastics within his school and Cade said that he has decided to quit using plastic straws for good.
"Lives were changed throughout the week spent in Costa Rica, and there is no limit to the lives that will be changed once these students begin implementing their new lifestyles amongst their families and communities at home. A simple thank you would never be enough to express our feelings of gratitude for the role our student sponsors and Bright Light Volunteers played in making this opportunity available for these students."
About Bright Light Volunteers
Bright Light Volunteers is a 501(c)(3), non-profit organization, designed to empower program participants and community partners through education and service. Specifically, our programs adhere to global service-learning best practices, which combine community service with both experiential learning in the field and online coursework through our university partner. Our vision is to make the world a brighter place by creating a more peaceful, just, interconnected world where global challenges and opportunities are met by educated, compassionate, global citizens and leaders. http://www.brightlightvolunteers.org