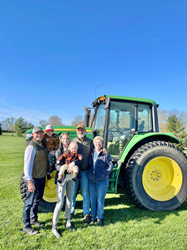 ADAMSTOWN, Md. (PRWEB) June 30, 2022
Bullfrog Sod, a new sod farm in Adamstown, MD is preparing for a September harvest of Maryland-Certified Sod. The 3 – generation Bennett-Killian family (grandparents, parents and 2 toddler boys) is looking forward to carrying on the proud tradition of the previous owners of 40 years. With the goal of providing Maryland-Certified sod to current and new homeowners and commercial users, Bullfrog Sod LLC has been preparing a new crop of sod since fall, 2021.
Maryland-Certified Sod is the only variety currently grown at Bullfrog. From seed to sale, an inspection process is conducted by the Maryland Department of Agriculture deeming it "Maryland Certified." Certified sod generally yields fewer weeds, insects and diseases, and a greener, lusher product than non-certified sod. Bullfrog sod is comprised of a 90/10 Tall Fescue and Kentucky Blue Grass blend. These cultivars, considered "cool season" grasses, are ideal for both temperate and cool climates and go dormant during the winter months.
Sod, a perishable commodity, will be cut fresh daily at Bullfrog to fill both retail and commercial orders. Bullfrog employees are eager to work with both homeowners and contractors to ensure orders are customized to meet their individual needs. Delivery options are available. Please call 301-662-0736 for more information and answers to all your sod-related questions.
Bullfrog Sod is a Limited Liability Corp. established in MD in 2021 to seed, grow and harvest sod for retail and commercial landscaping use.