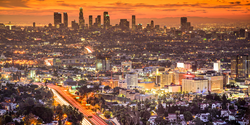 We could not be more excited to offer our customers high-end luxury with our Super Bowl travel packages and get fans back in the stands post Covid," said Kyle Kinnett, Bullseye spokesman
INDIANAPOLIS (PRWEB) February 09, 2021
Bullseye Event Group's Super Bowl Travel Packages offer football fans the chance to enjoy an VIP experience Super Bowl LVI weekend in LA! Enjoying four-night stays, fans can experience the two best and most luxurious hotels in the Los Angeles; The Iconic Beverly Hills Hotel and The Loews Hollywood. Super Bowl travel packages also include entrance into a Super Bowl welcome reception (featuring food, a premium open bar and a live DJ), a ticket to Super Bowl LVI, private motor coach transportation to and from the stadium on game day and a ticket into Bullseye's Players Tailgate at Super Bowl LVI.
"We could not be more excited to offer our customers high-end luxury with our Super Bowl travel packages and get fans back in the stands post Covid," said Kyle Kinnett, Bullseye spokesman. "Truly ecstatic and fully anticipate normalcy again for football fans to be able to spend Super Bowl weekend in luxury and style with Bullseye."
Bullseye Event Group has earned the reputation of being the industry leader with our annual Players Tailgate which brings together thousands of fans, athletes, celebrities and food on gameday. The Players Tailgate was cancelled in Tampa in respect to Covid-19 protocols. We are already planning for the Players Tailgate in Los Angeles and will be bigger and better than ever in 2022. "Getting this event up and running at full capacity is important for a lot of obvious reasons as we strive to get back to our normal entertainment lives," said Kyle Kinnett.
The Beverly Hills Hotel and Loews Hollywood are both Located in prime LA locations. The Beverly Hills Hotel and Loews Hollywood are unquestionably the top choice for fans wanting to experience luxury at the Super Bowl in Los Angeles.
All SBLA hotel packages include:

Upper Level End Zone to Corner Ticket to Super Bowl 56 February 6th, 2022 (ticket upgrades available,)
Four (4) night hotel check in on Thursday thru Sunday with checkout Monday
Admission into Bullseye Event Groups Super Bowl welcome reception Friday evening from 5pm to 7pm including food, open bar and DJ
Admission into the Super Bowl Players Tailgate annually rated the #1 rated Super Bowl Gameday event. The Super Bowl Players Tailgate has sold out 6 years in a row.
Round trip game day transportation to SoFi stadium
The Players Super Bowl Tailgate Pre Game party includes:

Super Bowl Sunday, 11:00am to kickoff with open premium bar and a 5 star food menu prepared by Celebrity Chef Aaron May and other Celebrity chefs
Emcee of the Super Bowl Players Tailgate is Sage Steele from ESPN
50+ Current /active NFL players are in attendance
Located walking distance to SoFi stadium
About Bullseye Event Group:
Bullseye Event Group works in an official capacity with multiple NFL teams, NBA Teams and Universities as the official events and travel partner, the hospitality partner or tailgate partner. The Indianapolis Colts, New Orleans Saints, Detroit Lions, NFL Alumni, New Orleans Pelicans, Northwestern University, Indiana University and the Ohio State University. Bullseye Event Group has earned a reputation as being an industry leader in event hospitality prior to some of the biggest sporting events in the United States. Best described as "culinary events," Bullseye's official VIP events offer the opportunity to both see and be seen by some of the biggest names in the entertainment and sporting industries.
Bullseye Event Group offers fans VIP experiences as a secure, official source of travel, hotel, pre-game parties and game tickets. Bullseye is a direct and dependable source for tickets to the Colts VIP Tailgate presented by Hays + Sons, the Saints VIP Tailgate, The Lions VIP Tailgate, Super Bowl 56 Travel Packages, the 2022 Players Tailgate at Super Bowl 56 in Los Angeles, Gate 6 Hospitality at The Masters and more. To learn more about Bullseye Event Group, visit BullseyeEventGroup.com or call 317-800-5820.