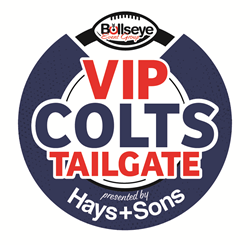 We have a chance to make some kids' dreams come true by attending their favorite team's games and enjoying a wonderful night on the town in downtown Indy.
INDIANAPOLIS (PRWEB) September 28, 2018
Several local Make-a-Wish families will attend Colts games and Colts VIP Tailgate events as guests of Hays + Sons, the official restoration company of the Indianapolis Colts. Hays + Sons is the official title sponsor of the Bullseye Event Group's signature Colts VIP Tailgate events.
"The title sponsorship of Bullseye Event Group's Colts VIP Tailgate events means that we have the opportunity to give something back to the community and the families we serve," said Jacob Houk, president of Hays + Sons. "Now, we can share tickets to Colts games and invitations to these amazing private tailgating events. For us, the Make-a-Wish Foundation was the perfect choice. We have a chance to make some kids' dreams come true by attending their favorite team's games and enjoying a wonderful night on the town in downtown Indy."
"Given that we often meet families in their time of greatest need, in the aftermath of storm, fire or water damage to their homes, it will be wonderful to meet them at a time when they can experience the simple joy of cheering their home team," Houk continued.
"The Indiana office of the Make-A-Wish Ohio, Kentucky, and Indiana chapter is excited to partner with Hays + Sons during part of the 2018-2019 Colts season," said Hilary Butler, regional director of development for the Make-A-Wish Indiana region. "Make-A-Wish creates life-changing experiences for children with critical illnesses and Hays + Sons' commitment to enriching these experiences by providing wish families the opportunity to attend a game is truly remarkable. We are very grateful for their partnership and their commitment to helping us fulfill our mission."
"We're excited that our partnership with Hays + Sons for our Colts VIP Tailgate events gives us the opportunity to give back to the community in this way," said Kyle Kinnett, CEO of Bullseye Event Group. "We look forward to welcoming the Make-a-Wish families for the games and to our Colts VIP Tailgate at our amazing new facility downtown."
The Colts VIP Tailgate presented by Hays + Sons has earned the reputation as being the best pre-game experience in the NFL, combining a culinary experience, sports, and the classic tradition of tailgating into one tremendous hospitality experience of a lifetime. Located just a short walk from Lucas Oil Stadium, the Colts VIP Tailgate presented by Hays + Sons offers luxury and amenities such as an all-you-can-eat buffet, along with drinks and live, on-location broadcasts from 1070 The Fan. It also features visits from Indianapolis Colts cheerleaders, surprise guest appearances, a Microsoft gaming area with 10 Xbox One Madden NFL gaming stations, pre-game HDTV coverage and more.
About Bullseye Event Group
The official events, travel and hospitality partners of the Indianapolis Colts, Detroit Lions and New Orleans Pelicans, Bullseye Event Group has earned a reputation as being an industry leader in event hospitality prior to some of the biggest sporting events in the United States. Bullseye Event Group is also the exclusive hospitality partner of StubHub Live. Best described as "culinary events," Bullseye's official VIP events offer the opportunity to both see and be seen by some of the biggest names in the entertainment and sporting industries.
Bullseye Event Group offers fans VIP experiences as a secure, official source of travel, hotel, pre-game parties and game tickets. Bullseye is a direct and dependable source for tickets to the Colts VIP Tailgate presented by Hays + Sons, Super Bowl LII Travel Packages, the 2018 Players Tailgate at Super Bowl LII, Gate 6 Hospitality at The Masters and more. To learn more about Bullseye Event Group, visit BullseyeEventGroup.com.
About Hays + Sons
Hays + Sons has provided restoration service to over 40,000 businesses and residents in the state of Indiana for more than 35 years, since Charles Hays and his two sons, Mark and Brian, opened the doors at Hays + Sons in June,1982. Hays + Sons has a team of certified professionals who specialize in water restoration, fire restoration, mold remediation, and personal property cleaning.
Headquartered in Indianapolis, Hays + Sons also has local offices in Lafayette, Crown Point, Fort Wayne, Muncie, Columbus and Cincinnati to serve customers in those areas. Hays + Sons' mission is to serve their customers during their time of need with integrity and a commitment to excellence. For restoration done right, visit HaysandSons.com or call Hays + Sons at 800-536-4056.