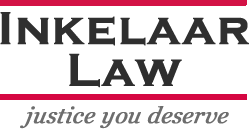 "It's a really big problem and a lot of kids go through it. And it's something we need to take charge at."
LINCOLN, NE (PRWEB) December 16, 2014
Inkelaar Law, a personal injury law firm in Nebraska, is leading a campaign to transform the state's anti-bullying laws in the wake of another videotaped bullying assault last week at Irving Middle School in Lincoln, Nebraska. The "Fight for Frida's Law" campaign is pushing for signatures on a Change.org petition to enact Frida's Law, a bill that is on the docket to be brought before the state legislature in January.
Inkelaar Law seeks to gather 100,000 signatures on an anti-bullying petition for Frida's Law. The petition hopes to demonstrate to Nebraska's legislators that there is significant public support for stronger bullying laws.
"We encourage everyone to get the word out through their social media sites. We are using the hashtag #Fight4FridasLaw to spread the word about the heinous consequences of bullying assaults that affect students like Frida," said Inkelaar.
The Lincoln Journal Star reported on Dec. 11 that a bullying assault on an 11-year-old at Irving Middle School had been recorded via an undisclosed person's cell phone. This recent bullying assault was similar to an assault experienced by Frida Aguilera de La Torre, the young student after whom the proposed anti-bullying bill is named.
"It's a really big problem and a lot of kids go through it. And it's something we need to take charge at," says De la Torre in a Dec. 13 report from KLKN.
In both cases, onlookers and bystanders were involved in the bullying assault of a student on the way home and the assault was recorded. Tragically, the unidentified student in the recent assault lost consciousness and was transported to the hospital after being thrown to the ground. The student was hit multiple times and kicked in the face repeatedly.
"I was scared," said De la Torre in the KLKN report, of her similar experience, "I had bruises all over my face. I felt ashamed."
The school was able to transfer the video to police officers and at least one student has been recommended to the county attorney's office. As the Lincoln Journal Star reports, the investigation into the role of the bystanders is still ongoing and the school has declined to specify the administrative steps it has taken against the students involved in the assault.
"Currently, onlookers and bystanders who facilitate a bullying assault off-school grounds are rarely held accountable for their actions," said Inkelaar.
About Inkelaar Law
As a personal injury law firm dedicated to assisting injury and accident victims, the skilled litigators of Inkelaar Law are prepared to put their vast resources and experience to work for their clients. The attorneys at Inkelaar Law are knowledgeable in all types of personal injury claims including auto accident injuries, medical malpractice, workers' compensation, and wrongful death.
Additionally, Inkelaar Law's criminal defense lawyers thoroughly investigate the cases of those who have been charged with a crime. For more information or for a free, confidential case review, contact Inkelaar Law by visiting justiceyoudeserve.com or by calling 1-877-487-8711. ¡Hablamos Español!
Inkelaar Law
500 S. 24th, Suite 101
Omaha, NE 68107
(402) 999-9999