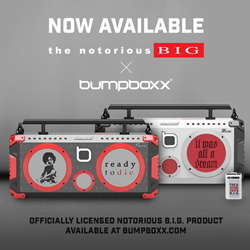 "We are excited about this collaboration with Bumpboxx on this line of speakers honoring Biggie's legacy and celebrating his Classic album Ready to Die! We are very pleased with the look and sound of the speakers and are certain his fans will be as well! - Wayne Barrow, Manager, Notorious B.I.G.
LOS ANGELES (PRWEB) December 09, 2020
Bumpboxx® worked with Notorious B.I.G.'s estate and Merch Traffic, Inc. to design the Notorious B.I.G. themed Bluetooth Boombox and Pager featuring album inspired artwork from, Ready to Die. Notorious B.I.G. fans are now able to purchase the Bluetooth Pager and Boombox which includes a wireless microphone.
"Notorious B.I.G. is arguably the greatest hip hop artist ever, and it was a true honor for us to pay tribute to the legend and his first album, Ready To Die! He's our second artist to be featured in our Legend Collection."
About Bumpboxx®
Bumpboxx ®established in 2016 brings back the old school swagger with new school technology to provide products with quality sound. Bumpboxx® provides the latest in specialized personal home and outdoor audio equipment, perfect for streaming all your favorite Notorious B.I.G.'s hits. For more information about Bumpboxx®, visit http://www.bumpboxx.com.