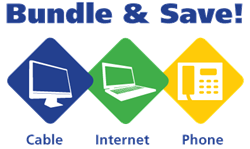 SolveForce Takes Internet & Phone Bundling services into Fort Collins, CO and Ogden, UT
Ogden, UT (PRWEB) August 25, 2016
SolveForce continues their Pro-Business cities marketing campaign by immediately introducing DirecTV Internet & Phone Bundling (http://solveforce.com) services to Fort Collins, CO and Ogden, UT.
DIRECTV is now part of the AT&T family, which means that bundling DIRECTV with AT&T lets consumers enjoy exceptional service from not one but two industry leaders.
DIRECTV offers more than 315 all-digital channels, more than 200 full-time HD channels, an array of HD DVR features, multimedia apps and much more. The full range of services available from AT&T includes High Speed Internet from AT&T and digital home phone.
Maximize home entertainment when using DIRECTV service in tandem with High Speed Internet from AT&T. DIRECTV offers features like DIRECTV™ Media Share, which makes integrating the home computer applications and TV service a breeze.
Just as DIRECTV is a leader in satellite television service, AT&T is a leading provider of Wireless, Internet & Phone Bundle (http://solveforce.com/services/) services. Together, these providers make it easier than ever for consumers to enjoy exceptional service and value on satellite TV, Internet and phone service. Plus, AT&T wireless customers could be eligible for a monthly discount by combining their AT&T Mobility and DIRECTV bills!
Bundling services usually ends up being the lowest cost route to go. To learn more about SolveForce Internet & Phone Bundle (http://solveforce.com/services/) services, visit SolveForce.com.
About SolveForce
We are committed to a customers company in every aspect of the customer relationship. If a customers company needs to contact us for any reason, please don't hesitate to call or email us at the earliest convenience.
By Phone: (888) 765-8301
By Email: ron(at)SolveForce(dot)com
By Website: http://www.SolveForce.com