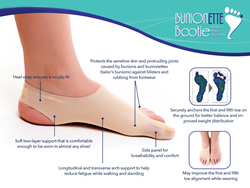 One reviewer wrote "The pain has greatly improved! I can walk longer also. Thank you."
Paso Robles, CA (PRWEB) February 25, 2016
This past fall Bunion Bootie launched its newest bunion support, BunionETTE Bootie as a result of customer requesting a soft bunion splint similar to the Bunion Bootie, but designed for tailor's bunions. Just last month the two products were brought together on the same website, allowing customers to easily purchase both supports together, pay one shipping and handling fee, and also take advantage of Bunion Bootie's everyday discounts that are automatically applied when buying two or more Booties. As a result, sales have soared in the last 30 days.
BunionETTE Bootie provides relief to those suffering from tailor's bunions, otherwise known as bunionettes. It aims to protect the bunionette's sensitive area by reducing rubbing, swelling, and redness, as well as increase stability by improving foot-to-floor contact. The soft, thin bunionette splint is gaining rapid acceptance among its users, with one reviewer claiming nothing else had helped her until she stumbled upon BunionETTE Bootie. "I do find it feels good and my balance is better," one reviewer wrote. "The pain has greatly improved! I can walk longer also. Thank you."
About Bunionettes
Bunionettes, or tailor's bunions, are essentially bunions on the little or pinky toe. Instead of forming at the base of the big toe, like traditional bunions, bunionettes occur at the base of the pinky toe. They aren't as common as bunions, but they often result from the same causes, including ill-fitting footwear, naturally faulty bone structure (thanks to genetics) and unusual stress on the foot. They also cause symptoms that are similar to bunions', such as redness, swelling and pain at the inflammation site.
Those suspecting they might have a bunionette should visit their doctor, as the ailment is best diagnosed with an X-ray. Medical professionals may also be able to assess the cause of the tailor's bunion's and extent of the damage.
How BunionETTE Bootie Works
When it comes to treating bunionettes, BunionETTE Bootie provides an alternative to surgical options. The soft flexible brace, available in small, medium and large sizes for both the left and right foot, covers the first and fifth toes (the big and pinky toes) to help separate them from the rest of the toes. The bootie's snug fit also provides longitudinal arch support, which helps reduce fatigue while walking and standing. The brace's fabric is flexible and breathable, but also protects the skin, shielding protruding joints from rubbing on footwear and thereby preventing blisters and further irritation. Like Bunion Bootie, BunionETTE Bootie fits comfortably and discreetly in just about any type of shoe, while its heel strap provides a no-slip fit.
Where to Find One
People dealing with the pain and inconvenience of a tailor's bunion now have a treatment option aside from surgery — one that's effective and non-invasive and requires no recovery time. The bootie is available for purchase online at https://bunionbootie.com/new-bunionette-bootie/ for $39.95.
Bunion Bootie are also available for Hallux Valgus (bunions on the big toe) sufferers for $33.95 each and can be purchased directly from this link - https://bunionbootie.com/new-bunion-bootie-treats-bunion-pain/.