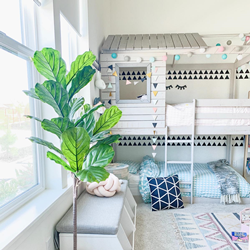 You won't find a more ample selection of bunk beds than on the Wayfair site.
OVERLAND PARK, Kan. (PRWEB) October 01, 2020
TopConsumerReviews.com once again gave its best-in-class 5 star rating to Wayfair, a leader among online sellers of Bunk Beds.
Ask any kid what kind of bed they'd like to have, and the answer is likely to be universal: "a bunk bed!" What makes this style of furniture so quintessentially popular? For one thing, bunk beds tend to be seen as fun. Even for an only child, what better way is there to have a bedroom that is 100% sleepover-ready or to have a place to curl up and study or set up favorite stuffed animals? For others, the decision to buy a bunk bed is much more practical: when siblings share a bedroom, often the only way to go is up, in order to maximize space. But, bunk beds aren't just for children: loft beds are similar to bunk beds, frequently seen in college dorm rooms with an elevated single bed platform and room underneath for a desk, a mini-fridge, or general storage. While it can be overwhelming trying to figure out where to buy the perfect bunk bed, the easiest solution is to shop online: where every possible style, configuration, and price point is just a few clicks away from being delivered right to one's home or university.
"You won't find a more ample selection of bunk beds than on the Wayfair site," affirmed Brian Dolezal of TopConsumerReviews.com, LLC. "You'll regularly find more than 1,400 models to choose from, ranging from the most basic metal twin-over-twin configuration to styles that include larger mattresses, built-in storage and study areas, and much more. There's no other online retailer that makes it easier to find exactly what you need, with intuitive sorting tools and clear images to see exactly what you're getting. And, Wayfair continues to offer 30-day returns and free shipping, even on big items like bunk beds and lofts. If you're looking for the best bunk bed for your home or for a student dorm room, Wayfair should be the first name you consider. It's our pleasure to give the company another first-place ranking among online retailers of bunk beds in 2020."
To find out more about Wayfair and other online retailers of Bunk Beds, including reviews and comparison rankings, please visit the Bunk Beds category of TopConsumerReviews.com at https://www.topconsumerreviews.com/bunk-beds/.
About Wayfair
Wayfair believes everyone should live in a home they love. Through technology and innovation, Wayfair makes it possible for shoppers to quickly and easily find exactly what they want from a selection of more than 14 million items across home furnishings, décor, home improvement, housewares and more. Committed to delighting its customers every step of the way, Wayfair is reinventing the way people shop for their homes - from product discovery to final delivery.
About TopConsumerReviews.com
TopConsumerReviews.com, LLC is a leading provider of reviews and rankings for thousands of consumer products and services. From Bunk Beds to Foam Mattresses and Pajamas, TopConsumerReviews.com delivers in-depth product evaluations in order to make purchasing decisions easier.