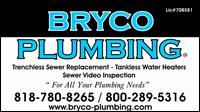 We are offering $200 OFF the replacement of any gas or electric water heater in Burbank including tankless heaters
Burbank, CA (PRWEB) November 14, 2013
Burbank water heater repair and replacement experts at Bryco Plumbing are now offering new plumbing discounts. "We are offering $200 OFF the replacement of any gas or electric water heater in Burbank including tankless heaters. We are also offering a no cost inspection and 10% off for people who need Burbank heater repair," says Brian. "We get calls every day from people who have a leaky unit. In many cases the heater is more than 12 years old. We always try to repair before advising replacement, but sometimes older units require Burbank water heater replacement."
Burbank water heater repair experts at Bryco Plumbing can help extend the life of a water heater by performing manufacturer recommended annual maintenance. It is important to properly maintain the system to maximize the number of years it will work properly. "The most common problem we see is people not properly maintaining their heaters. If the unit isn't drained once per year sediment builds up and after only a few years the water heater will likely begin to deteriorate, start leaking or fail," says Brian.
Bryco Plumbing of Van Nuys has been providing water heater repair and replacement in Burbank for over 10 years, but they are also full service Burbank Plumbers. "We do a lot of plumbing repair and replacement but we handle all types of plumbing services like tankless units and copper repiping," says Brian.
To learn more about Bryco Plumbing or the other plumbing services they provide please visit their website, watch their many informative videos, read their positive Burbank plumber online reviews on trusted sites like Angie's List, Yelp and Google or see their Google Plus profile. Call them for details on the coupon offers which expire on 04/15/2014 for water heater repair in Burbank.
Bryco Plumbing Inc.
7412 Valjean Ave
Van Nuys, CA
(818) 780-8265