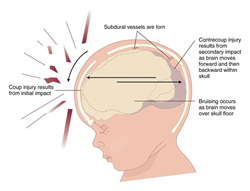 The added burden of having decreased or unsteady mental function can place a huge long-term burden on a family, both financially and emotionally.
Los Angeles, CA (PRWEB) August 21, 2015
According to an article published July 30 by News Medical, many children go through CT scans that do not produce evidence of a traumatic brain injury (TBI). Citing a study that was published in the American Journal of Emergency Medicine, the article talks about how only four-percent of adolescent patients who had to undergo a CT scan actually had a TBI. The article goes on to explain that, although the nature of diagnostics tests is such that many of the people that undergo a CT scan will not have needed it, growing concern about radiation exposure is encouraging researchers to find alternate ways of eliminating the suspicion of a TBI without a CT scan. Having become all too familiarized with the seriousness of TBI cases through their work with motorcycle accident victims, the Law Offices of Burg & Brock note that while doctors are generally very diligent in their efforts to diagnose TBIs, more effort should be concentrated in ensuring that these diagnostic methods will be more effective and safe so that information can be obtained easily for both medical and legal reasons.
"In nearly all of our cases," the law firm explains, "We rely on accurate medical information to prove to the court that our clients have in fact suffered the injuries that they are claiming. Yet, our job as attorneys is to represent the best interest of our clients, and that means making sure that no harm comes to them in an effort to obtain this vital medical information. If it is in fact true that the radiation involved in these tests could be in any way harmful to the patient, then it at least merits another look at how we can get the information that we need in court in a way that does no further harm to each client."
As an aside, the law firm wants to make it clear that just because there is a low rate of TBI diagnosis in children who undergo CT scans doesn't mean that adolescent TBIs are an uncommon problem. In fact, the opposite is true. The article notes that "TBI is the leading cause of disability in children one year and older, and is a leading cause of pediatric death." Not only is this type of disability the most prevalent, the law firm adds, it can also bring serious physical and emotional pain for the victim and their family.
What can make this emotional pain even worse, notes the law firm, is being burdened with the sense of injustice when this head injury stemmed from the negligent actions of another party. Often, especially in cases that lie outside of the purview of criminal law, pursuing legal action against the negligent party is one of the only ways to help victims feel more whole, in terms of having both their physical and emotional needs met. Mr. Brock notes that TBIs are a lifelong problem, so they merit compensation that can make an impact on a lifelong scale.
Anyone interested in pursuing justice for themselves or on behalf of someone they love who was injured as a result of someone else's negligence, can call the Law Offices of Burg & Brock today at 1-888-979-7979, or visit them online at http://www.LegalDefenders.com.