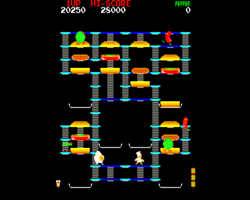 BurgerTime is an iconic arcade game that we've been getting a lot of requests for. The iiRcade community will be very excited about this new addition.
CHICAGO (PRWEB) May 18, 2021
iiRcade Inc., the ultimate connected arcade machine that allows gamers of all ages to play their favorite retro and modern games in arcade style at home, is pleased to announce that BurgerTime, initially developed by Data East and officially licensed by G-MODE Corporation, is now available in the iiRcade Store.
iiRcade also announced today that six other officially licensed Data East titles will soon be available in the iiRcade Store: Bad Dudes vs. DragonNinja, Bloody Wolf, Boogie Wings, Dark Seal 2 (Wizard Fire), Heavy Barrel and Karate Champ Player vs Player.
Released in 1982, BurgerTime has players play as chef Peter Pepper, who must walk over hamburger ingredients located across a maze of platforms while avoiding pursuing characters.
The arcade version of BurgerTime will join Super BurgerTime and Peter Pepper's Ice Cream, also officially licensed by G-MODE Corporation that launched earlier this year in the iiRcade Store, to complete the series.
"We'd like to thank G-MODE Corporation once again for continuing to add amazing Data East titles to iiRcade," said Jong Shin, founder & CEO of iiRcade. "BurgerTime is an iconic arcade game that we've been getting a lot of requests for. The iiRcade community will be very excited about this new addition."
More information on the six other Data East titles coming to iiRcade, which will all be arcade versions of the games:
Bad Dudes vs. DragonNinja - This 1988 arcade game, often referred to as 'Bad Dudes' in North America and known as 'Dragon Ninja' in Japan, is a side-scrolling beat 'em up where players are tasked with rescuing "President Ronnie" from ninja kidnappers.
Karate Champ Player vs Player - A 1984 arcade fighting game that established and popularized the one-on-one fighting game genre.
Bloody Wolf - Run and gun arcade game that was released in 1988 has players play as Snake and Eagle, two commandos of the Bloody Wolf special forces, who must destroy the enemy's weapon base and rescue allies as well as the President.
Boogie Wings - A 1992 horizontally scrolling shooter that's set around the time of World War I, where players maneuver biplanes, automobiles, animals, and various other unidentifiable objects to battle an army of mech-wielding scientists.
Dark Seal 2 (Wizard Fire) - 1992 role-playing beat-'em-up arcade game where players control characters from an isometric perspective and must traverse levels while fighting enemies, avoiding traps, and collecting items as well as spells.
Heavy Barrel - A 1987 overhead run and gun arcade game where players must infiltrate a nuclear missile base that has been seized by terrorist and kill the enemy leader.
iiRcade allows for cinematic arcade gaming experiences via 19" High-Definition display, 100W Dual Stereo Speakers, Premium Arcade Joysticks and hardware and software optimized for gaming. iiRcade also has the latest features built-in, such as WiFi 5, Bluetooth 4.2 and HDMI-Out, that bring arcade experiences to today's gamers.
Each iiRcade comes with 11 pre-loaded games: Dragon's Lair, Double Dragon, Gunbird, Beach Buggy Racing, BombSquad (online multiplayer party game), Snowboard Championship, Diver Boy, Dragon Master, Maniac Square, Twin Brats and Fancy World.
All games are officially licensed and available at affordable prices, and new titles are continuously added to the growing iiRcade store library. The iiRcade Store can be accessed on phones or via browser on PC or Mac through the iiRcade Store link.
A full list of games currently licensed and targeted for release on iiRcade Store can be found here.
Beyond the original design, iiRcade is available in three premium versions: RetroMania Wrestling Edition, Dragon's Lair Edition and Black Edition, which enables users to design their own cabinet graphics and comes with officially licensed Double Dragon stickers that can be put onto the cabinet as a free gift. Each premium version includes upgraded 128-GB storage memory and original Sanwa joysticks.
For more information and to order iiRcade, visit iiRcade.com.
About iiRcade
iiRcade is a premium arcade gaming experience like no other. Play retro arcade games that you remember to the latest modern games in amazing arcade style. With cinematic gaming experiences powered by 19" high-density display, 100W of powerful stereo sound, premium 2-player arcade controllers and device optimized for the best arcade gaming experiences, iiRcade delivers arcade gaming that is so immersive, you will feel like you are inside the game.