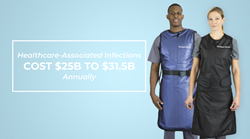 As a nurse, the health and well-being of my patients has always been a top priority for me. I am excited to work with Zac and Justin from RCS to establish and promote cleaning standards for radiation protection garments.
HAMPTON ROADS, Va. (PRWEB) October 07, 2020
Burlington Medical, engineers of the highest quality and lightest weight radiation protection aprons in the industry, recently partnered with Radiological Care Services(RCS), a comprehensive x-ray garment solutions provider, to provide timely repairs and deep cleaning of all x-ray aprons and thyroid shields. This will improve the safety and well-being of all customers and the patients whose garments they touch.
According to the Centers for Disease Control and Prevention, health care-associated infections (HAIs) are estimated to affect 1 in 25 patients each day in the U.S, resulting in hospital care costs of $25 billion to $31.5 billion annually. Additionally, the COVID-19 pandemic has heightened awareness in health care facilities related to infection control. The new virus brings the need for clean and safe surfaces as anything touched by infected patients becomes a breeding ground for viruses and increases the threat of more infection.
Many health systems are placing attention on the sharing of x-ray aprons between employees and medical device sales representatives as a potential for pathogen transmission. But many hospital staff admit there is limited knowledge of how to properly clean and disinfect their aprons, and there are few policies in place requiring routine cleaning or disinfecting. This places patients and staff at increased risk for acquiring HAIs. Ensuring the health and safety of patients and staff through routine cleaning is equally important as ensuring the integrity of protective material through annual fluoroscopic inspections.
That's why Burlington Medical and RCS are taking a more formal approach to the cleaning of x-ray garments. Deep cleanings by professionals are key aspects of ensuring the garments intended to protect staff and patients from scatter radiation are also protecting them from HAIs. As part of this new partnership, cleaning recommendations are provided with all wearables, and Burlington Medical is now offering a range of fabrics from polyester to those that are non-porous and possess anti-microbial properties.
Porous fabric on the inside of an apron or thyroid shield can be a harbor for sweat and pathogens that could transfer from one wearer to another when the apron is shared or used to shield a patient. The outside fabric, either porous or non-porous, regularly contacts surfaces, patients, and other objects that may contain pathogens. There is a potential that these pathogens could transfer onto a patient from an x-ray apron and resulting in a patient, staff member, or sales representative contracting an infection.
Additionally, Burlington Medical account managers will partner with supply chain and department managers to ensure budgets are maintained and each health care worker has an x-ray apron and thyroid shield of their own to decrease pathogen transmission associated with sharing aprons. Burlington Medical offers a broad range of apron styles to fit all budgets, and their protective material meets strict independent testing guidelines. This ensures health care workers are protected equally no matter the apron style chosen. Establishing these regular cleaning patterns of individuals' aprons are positive steps in maintaining infection control for both patients and staff members.
"As a nurse, the health and well-being of my patients has always been a top priority for me," says Stephanie Phillips, BSN, RN, senior product manager and clinical liaison at Burlington Medical. "I am excited to work with Zac and Justin from RCS to establish and promote cleaning standards for radiation protection garments as this helps us provide an added level of protection for our customers and their patients."
To learn more about this cleaning partnership and how Burlington Medical and RCS are caring for customers, read this article.
About Burlington Medical
Burlington Medical is an expert in the health and safety concerns of providers working in a radiation environment. From their in-person fitting services to industry-best lead times and cost-saving product options, Burlington Medical delivers superior outcomes with greater budget efficiency to all customers.
Burlington Medical is ISO9001 certified and follows all guidelines of the American Society for Testing and Materials (ASTM International). Burlington's 5-year warranty is the best in the industry, compared to most competitors at just two years. Burlington's quality products deliver more for the money, and with a registered nurse on the management team, Burlington brings an unparalleled level of insight and expertise to product development.
To learn more about Burlington Medical, their wholistic radiation protection, or their new core material, visit https://www.burmed.com.