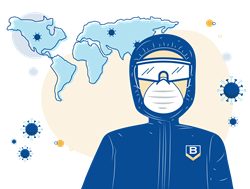 Virginia has only been receiving 50% to 7.7% of the personal protective equipment it requests from FEMA
NEWPORT NEWS, Va. (PRWEB) April 22, 2020
Across the country, there is an extreme shortage of essential equipment for healthcare providers to protect themselves from COVID-19. Virginia has only been receiving 50% to 7.7% of the personal protective equipment (PPE) it requests from the Federal Emergency Management Association (FEMA).
As Governor Northam told the Virginia Mercury, "While we appreciate what we've received from the national stockpile, it isn't close to enough. Virginia's health care providers and first responders deserve basic protection, equipment, and supplies. We need more, period."
Burlington Medical, Virginia's sole manufacturer of personal protection equipment for radiation, reached out to Governor Northam and volunteered to convert all of its available production capacity to face masks, face shields, isolation gowns, as well as sourcing protective eyewear. While many businesses across the country have responded similarly to the pandemic, Burlington Medical is particularly well suited for the job.
"Right here in our Newport News VA headquarters, we have equipment and teams of artisans to design, cut, assemble and sew complex radiation vests and apparel," Stephanie Phillips, senior product manager and former registered nurse, attested. "We also have supply chain experts on hand. We're not just producing face masks and isolation gowns, we're using our craftsmanship and resources to make the highest quality PPE in its class."
PPE production has been in effect for weeks at the company. They are now accepting orders for tri-layer facemasks (the equivalent of three-ply surgical masks), polypropylene isolation gowns, high-strength face shields, and protective eyewear.
Due to the extreme scarcity of PPE, Burlington Medical will limit most of its sales of critical items to Virginia hospitals and healthcare facilities. Protective eyewear is available nationwide. Eventually, it plans to broaden its sales of PPE to neighboring states.
"Healthcare providers have always been on the frontlines of public health, and protecting them has always been our company mission. Before it was only radiation, today there's also COVID-19. We're proud to help keep providers safer during this difficult and dangerous time," said Stephanie Phillips.
For more information about Burlington Medical's PPE initiative, contact:
Stephanie Phillips
1-757-968-5849
stephanie.phillips@burmed.com
About Burlington Medical:
Burlington Medical engineers the highest quality and lightest weight lead aprons in the industry. We are experts in the health and safety concerns of providers working in a radiation environment. From our in-person fitting services to our industry-best lead times and cost-saving product options, we deliver superior outcomes with greater budget efficiency to all of our customers.
https://burmed.com
(800) 221-3466 / (757) 888-8994
3 Elmhurst Street, Newport News, VA 23603