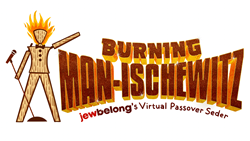 sign up for the free virtual seder at www.jewbelong.com
NEW YORK (PRWEB) March 11, 2021
Saturday, March 27th, 2021 at 7pm ET
To join us, sign up at JewBelong.com
On the first night of Passover, Saturday, March 27th, 2021, JewBelong will present BURNING MAN-ISCHEWITZ, their second virtual Passover Seder, with Matt Broussard (Comedy Central) as host.
In a time where the terms 'diversity' and 'inclusion' are on the tip of everyone's tongue, JewBelong is proud of the fact that their name has included the word belong since their inception. Jews come in many forms and with varying knowledge of their culture. Sometimes Judaism can seem off-putting because of the many rules and complex traditions. JewBelong helps by explaining the intention behind the rituals and invites everyone in, whether they break the rules or abide by them. JewBelong is able to balance tradition with inclusion by highlighting love and humanity.
Archie Gottesman, JewBelong's co-founder, says, "We need community, albeit virtually, now more than ever. We're excited to provide a space for Jews and FOJs (Friends of Jews) to participate in a free, relevant, creative but also traditional Passover Seder. At JewBelong we don't judge if someone eats an English muffin the morning after the Seder (Jews are supposed to refrain from eating bread for the eight days of the Passover holiday).
"The world has too much other-ing and marginalizing right now. We want everyone to feel the belonging in a holiday that is about freedom! 'BURNING MAN-ISCHEWITZ,' explains the Passover Seder so that those who aren't Jewish, or who are but didn't get much Jewish education, or may just be someone in need of a refresher, won't feel left out or JewBarrassed (that feeling people sometimes get when they think they should know something Jewish, but they don't)." Here is a quick trailer of How Long Should Seder Be? and of course a cameo from Drunk Elijah.
JewBelong.com also has a free, downloadable Haggadah complete with all of the Seder steps, original songs, a fantastic skit that tells the story of Passover, Burning Bush: A Passover Drinking Game, and more.
About JewBelong: JewBelong.com is a non-profit online resource that offers easy explanations and meaningful DIY rituals for Jews, for people who aren't Jewish but are part of a Jewish community, and especially for anyone who has felt like a Jewish outsider or feels disengaged from the religion. JewBelong's co-founders, Archie Gottesman and Stacy Stuart, are the marketing duo that was the voice behind Manhattan Mini Storage's iconic branding ("NYC: Tolerant of Your Beliefs. Judgmental About Your Shoes." "If You Don't Like Gay Marriage, Don't Get Gay Married").
JewBelong's virtual Seder will premiere at 7:00 pm ET on Saturday, March 27th, 2021 and be available for the rest of Passover.
The JewBelong Seder is open to the public.
###
Assets can be found here: http://bit.ly/jewbelong
Include "How Long Should The Seder Be?" https://youtu.be/FuIsXh83VvY
Include "Drunk Elijah" https://youtu.be/EqX7ac3Y5u4