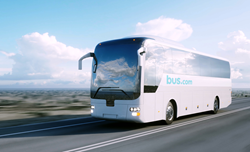 MONTREAL (PRWEB) April 20, 2020
The Bus.com Board of Directors is pleased to announce the appointment of Maxie Lafleur as CEO and Board Member. Ms. Lafleur joined Bus.com, a bus rental platform and group transportation provider as CFO in July 2019. The Board has made this appointment upon the resignation of former CEO and cofounder Kyle Boulay who remains an important shareholder of the company. This change comes as the company sets its eyes on accelerating the development of disruptive technology, strengthening its scaling abilities and considers making potential acquisitions.
Ms. Lafleur is a young and talented business leader who has quickly climbed the professional ladder with extensive experience in the digitalization, scaling, and transformation of businesses that were primarily B2B. She also comes with robust expertise in M&A and business expansion through joint ventures within large international companies. Most recently, she has been instrumental in her capacity as CFO at Bus.com, helping improve the company's unit economics and redefine the way that Bus.com positions itself in the marketplace. Her experience working abroad in Europe and Asia position the company well for expansion in new countries.
"Maxie is the right person to lead Bus.com into the future, given her strong command of our business and proven ability to drive results," said Josh Breinlinger, Board Member of Bus.com and Managing Director at Jackson Square Ventures, which invested in the company's last round. "Speaking on behalf of the Board, we look forward to working closely with Maxie as Chief Executive Officer."
"I am honored to lead Bus.com as Chief Executive Officer," said Ms. Lafleur. "I look forward to continuing to work closely with our exceptional senior leadership team. We feel confident the bus charter industry will recover and rebound. From this set back, we will emerge more resilient through the advancements of our technology and the tough and strategic decisions we have made and will continue to make."
Seen as the leading digital marketplace that is modernizing and building the connective tissue of the fragmented bus charter and group travel industry across North America, Bus.com comes off of a series B round in 2019 that saw Bus.com raise $15M USD, enabling the company to add seasoned professionals to the overall team.
Bus.com launches the Bus Angels Program.
Bus.com is also announcing an initiative to support its bus partners across North America called the Bus Angels Program.
"We are sensitive to the challenges our bus partners across North America are facing. They are in most part small operators that risk losing their livelihood because of the COVID-19 pandemic. Hence, we have been compelled to act and have shifted a significant portion of our resources to actively support their families and them by providing advice, information and guidance as they take difficult decisions, renegotiate their financial obligations and navigate the many government programs and subsidies," said co-founder and COO Wolf Kohlberg. "I am also very optimistic for the future of this industry and to work on the next chapter with Maxie."
About Bus.com
Bus.com is changing the way that groups travel by making it easier than ever to book a bus online. Through its unique technology, Bus.com is modernizing the charter bus industry to provide service across North America that is safe, easy, and affordable.